The Blue Gene
In Australia, the gene responsible for Blue, either in lacing or in ground colour is the Blue diluter (written as Bl).
It is the same gene in all breeds.
This gene acts to dilute Black (shown as bl) to Blue in one dose (it is more correctly grey, being between Black and White, but called blue in poultry terminology). The geneticist's name for Blue is Andalusian Blue, this differentiates it from Lavender which the Americans call Self Blue.
One Black Gene and one Blue gene = Blue (or Bl/bl = Blue).
What does it look like?
Here is a blue pullet (thanks Melschooks) she is all Blue (the edges of her feather are abit darker, due to hormonal reasons);
Here is a group of blue
laced
wyandottes of mine , where only the lacing is blue;
Note in both pictures that the lacing and feathering is Blue where it would otherwise be black.
Breeding Blue
You can tell if a chicken has blue or not straight away, just by looking at it. There is no need to do test matings to find out if it is present. Because Blue is dominant, and effects black only, having little effect on red, and so one gene will change a black bird to blue where 2 genes will change black to a whitish bird with splashes of black/blue.
If the gene isn't present in a chicken, then the chicken is black. If one gene is present, it will be blue. If the bird gets 2 doses of the gene it is a splash.
Blue is not sex-linked. As long as a parent has it then about 50% of the offspring should have it. A blue male will pass the trait on to both his sons and daughters. The same holds true for the female that has it. This is unlike the barred factor, where the male will pass the trait on to his sons and daughters. However the female will only pass the trait on to her sons.
Mating Results;
There are several different matings that can be used for the blue gene.
Blue
X
Blue
. This will give you 25%
black
(without the gene) 50%
blue
(with 1 gene) and 25%
splash
( with 2 genes).
Black
X
Blue
. This will give you 50% black and 50% blue.
Black
X
Splash
. This will give you 100%
blue

.
Blue
X
Splash
. This will give you 50% blue and 50% splash.
Splash
X
Splash
. This will give you 100% splash.
What is Splash
A double dose of Blue (Bl/Bl) will give splash. Splash shows up as nearly white, with flecks of blue and or black. As stated above, splash will actually breed truw. Splash cross Splash = 100% Splash
This is splash pullet (thanks again Mel'schooks);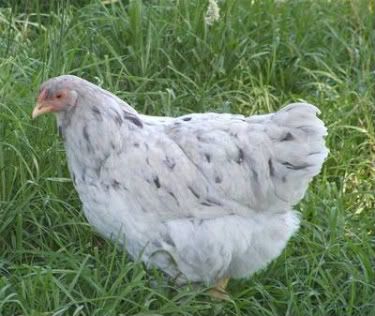 This is a pullet of mine who's lacing is splash;
She doesnt have many flecks at present ( I am going to see if I can breed this line of splash laced wyandottes and select for no flecks).
Many breeders don't like the Blue gene. In part because they don't understand it. Some want their breeding pens all one color. But then they will keep several different breeding pens with each pen being a different color (variety ).
Because of this, the 3 different color combinations can be maintained in one breeding pen. There is no need to keep each color separate. A blue male with 1 black hen and 1 splash hen will produce all 3 color variations, as will a blue male with a blue hen. What other gene allows for 3 different colors from one breeding pen.
So how does the Blue gene turn Black to blue?
Imagine a feather as being a whole lot of long thin tubes that are filled with pigment. The first pigment that is laid down is black and the tubes are filled quite quickly.
One dose of blue (Bl/bl)+ alters the filling process by interfering with the rate of black fill, causing a resulting grey (Blue) colour. But, the interference does not act evenly on every feather tube, giving black specks, which if there are enough, give feathers with black portions.
Also note, it is beleived that Blue is incomplete dominant gene but with variable penetration.
Not to be confused with....
Lavender
- Lavender can look like blue, but there will be no Black or Splash offspring as Lavender is recessive, needing two genes to make Lavender (lav/lav). Lavender 'Breeds True'. Lav cross Lav = 100% Lavender.
Here is a thread which discusses all there is to compare between Lav and Blue.
viewtopic.php?f=10&t=7968443
Recessive White
- Again Two black parents might throw a white chick, but it wont be splash. Also, a black and a white parent will not throw a blue (unless on the rare occasion that the white partent is hiding the blue gene).
Advanced Genetics
It has been discussed that the colour of the Blue also relates to the quality of the black being diluted.
I.e, a black chook, with all the Black enhancing genes present (there are many) will give a very dark blue when Bl is present. Whereas in a Black with only one black gene, the blue will be very light.
So breeders of blue need to be aware when selecting the colour blue, that they may well be selecting for a lack of black genes. At some point they will need to cross back to a very black chook (with all the genes present) to darken up the blue.
Here is a website that anyone interested in learning more genetics should bookmark and read every month for the next 12 months, like I did, until it all sticks.
http://edelras.nl/chickengenetics/
I hope that this helps and that it can be used to direct interested members to answers regarding their questions on Blue
Cheers
Raf