Hebe, you've selected the thumbnail image links. Remove
thumbs/
from the url, and you will get full size images. eg, your darker chickens:
....../data/500/
thumbs/
cb_x_dufus_partridge_chicks_darked_stripes.jpg
to
....../data/500/cb_x_dufus_partridge_chicks_darked_stripes.jpg
Basically, without modifiers, the eb chick down is mostly brownish. They may have a couple of thin stripes on the back, but thats about it. Eg: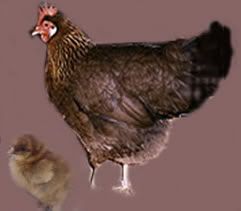 Here are a few links to eb chick downs at The Coop, to see the variation in down that modifiers produce:
e+ or eb?
http://www.the-coop.org/cgi-bin/UBB/ult ... 3;t=001466
Ron Okimoto:
Quote:
There are two basic types of eb chicks in down type. You can get the mink brown down that you see in a lot of show quality Partridge Rocks. There is the stripped down pattern for eb that I had in my show quality Partridge Rock bantams.
The down pattern looks like wild-type (e+), but the head is different. The birds have a brown head and no distinct head stripping that mimics the back stripping of e+ down.
The Smyth Brown line that is an E locus tester line with eb has the brown head stripped back down pattern.
eb chick down
http://www.the-coop.org/cgi-bin/UBB/ult ... 745#000001
chick down phenotypes
http://www.the-coop.org/cgi-bin/UBB/ult ... 387#000008
If you look at all the photos, yes some have striping around the eyes, but usually different pattern (eg eyeliner - concentric, & head markings usually more blotchy for eb, but arrow-head like for e+ & straighter eye stripe).
-------------------------
Ruff, I suppose it is possible that eb could have been hiding in my d'Uccles (as a recessive), but when I segregated chickens without Co and Db, I usually got very typical e+ chick down.
Eg, the following Blue Red-like (salmon breast) hen came from two different Quail lines (the father in-between Blue Quail & Blue Buff Columbian in phenotype, segregating co+):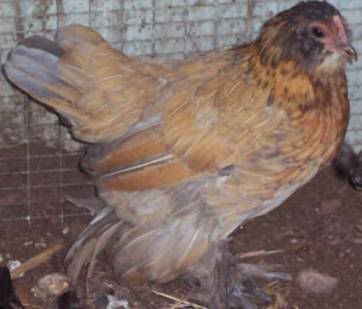 The e+/e+ allele chick photo (on the previous page) segregated from the d'Uccles (eg, e+ common in Quail, Buff Columbian, Silver Millefleur, Millefleur, etc).
There was also eWh segregating in a couple of d'Uccle lines.
P.s. e+/e+ Db/db+ and e+/eWh can look similar, plus these can look similar to eWh/eb.