Here's the breed profile of the Dorking. Please feel free to add or debate any points
History
The Dorking is arguably one of our oldest breeds of domestic chicken. Columella, a Roman historian writing at Caesar's time, describes a heavy-bodied five toed fowl seen in Britain. Dorkings were certainly well known as an old breed when Victorian gentlemen started to write of poultry in the 1800's, with many writers noting their utility qualities for both eggs and meat. Along with the Sussex, they were central to the trade in fattened capons supplied to the London market in the late 1800's to early 1900's, and were renowned for their fine white flesh and excellent eating qualities.
Dorkings were one of the original utility fowl taken with settlers to America, becoming one of the most common farm birds in the 1800's. They were also exported to Australia and became known as an excellent table bird in the colony.Their qualities have been utilised in the development many other breeds, including the Lincolnshire buff, the Houdan, and the Faverolles.
With the advent of faster growing crossbred strains of laying and meat birds in the 50's and 60's, the Dorking fell into decline. It has been maintained by a few dedicated breeders, but is regarded as a critically endangered breed. Some of the standard colours have been lost in Australia, and one of the challenges facing breeders today is to redevelop these colours without losing sight of the original dual purpose utility characteristics of the breed.
General characteristics
The illustrations of Weir and Harrison from over 100 years ago are good examples of what these fowls should look like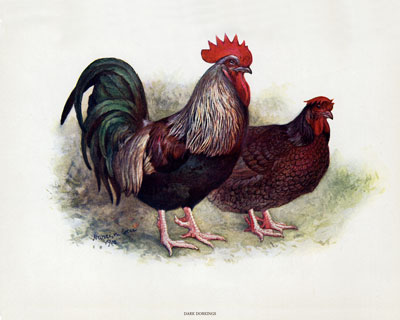 Dorkings are a heavy breed utility fowl, and their characteristics reflect this purpose.The character is quiet and stately, Dorkings should not be flighty or prone to panic and aggression. They should be large, with a long, deep body, looking rather rectangular when viewed from the side. Breast should be full and carried well forwards. The white legs are short and strong, with five toes, the fifth seperate from and above the normal hind toe, pointing upwards. The Australian Standard calls for mature hens to weigh 3.6-4.55 kg, while roosters should weigh 4.55-6.35kg. Lack of size is one of the issues faced by Dorking breeders in Australia today, with very few fowls reaching the standard weights.
Dorkings are quite hardy birds, and enjoy free range foraging. They lay a moderate number of medium to large sized white to tinted eggs. Dorkings breed well, generally fertility is good and, as long as their nutritional needs are met, egg hatch rates are high. Hens make good broodies and are natural mothers. Silver Grey, Red and Dark chicks can easily be sexed by around 2-3 weeks as their juvenile feathers come through, with the males showing a black breast and females showing salmon/chestnut breast feathering. They are one of the slower growing breeds; while pullets may come into lay as early as five months, they may not attain their full adult size until 18 months to two years old.
Bantams follow the same type and colour definitions as the Large birds, but their adult weights for hens and roosters are 1.020-1.255kg and 1.190-1.415kg respectively
Colours
Silver Grey
The Silver Grey is the colour most often seen in Australia. Males are striking birds with a rich black chest and body with clear silvery white hackles, shoulders and wing triangle. The black tail and flight feathers carry a deep green gloss. Females are predominantly a beautiful ash grey, the feathers delicately pencilled with a darker grey. The hackles are silver with a black central stripe, the breast a salmon to chestnut red. The Silver Grey carries a moderately large single comb.
Red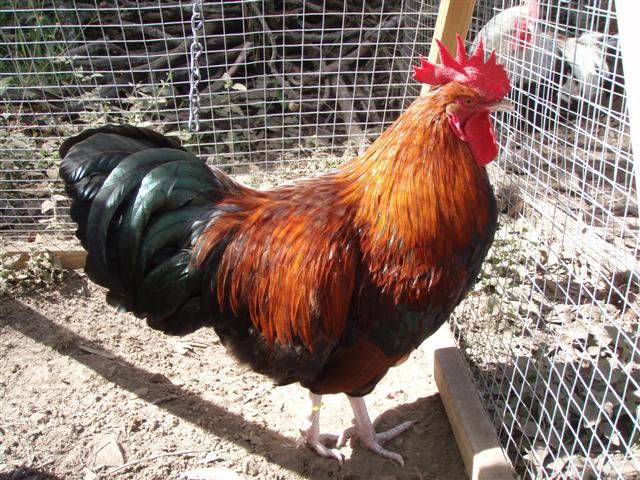 The Red Dorking is rarely seen in Australia, but persists in a few small flocks. The male again has a black chest, belly and tail, but has bright glossy red hackles and saddle, and deep red shoulders and wing triangle. Females are a rich mahogany red, their hackles gold striped with black. The Red is single combed.
Dark (known as Coloured in USA)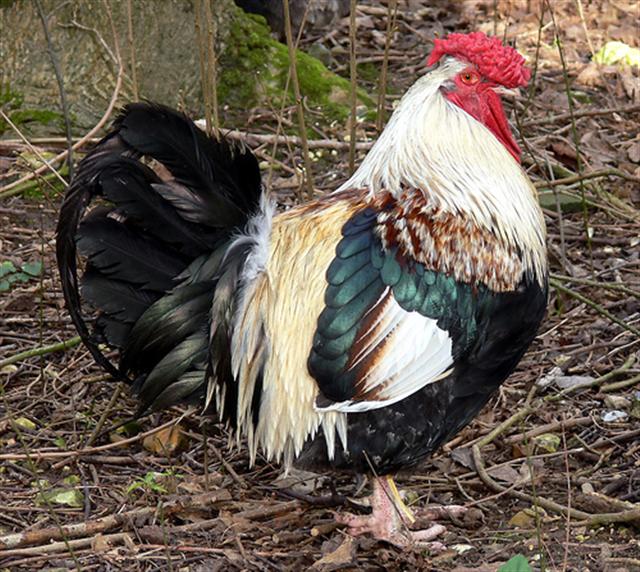 Photo courtesy of Tony Jones
The Dark Dorking has not been seen in Australia for some years. The male's hackles are white to straw coloured, the back white with black, grey or red markings. Underparts are again black. The female has white or straw coloured hackles, a red breast, and dark brown body feathers. The Dark can carry either a rose or single comb. This variety is known as the Coloured in the USA.
White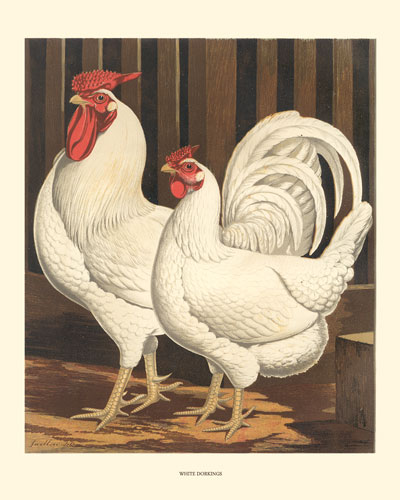 The White Dorking, being redeveloped in Australia, is a clean snow white all over the body, any straw tinge is considered a fault. The White has a rose comb.
Cuckoo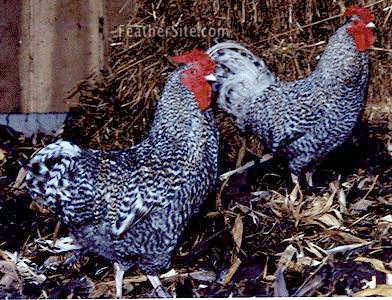 Photo thanks to Chris d'Orgeix and Feathersite
The Cuckoo is also being redeveloped. It has dark grey or blue bands on the feathers over the entire body, and a rose comb.
There is also historical evidence for many other colours, such as Wheaten, Speckled (known as Spangled in the US), Black and Clay. These colours and others are sometimes seen in the UK and USA.
Speckled pullets, photo courtesy of Lydia Cassilly and the USA Dorking Breeders Group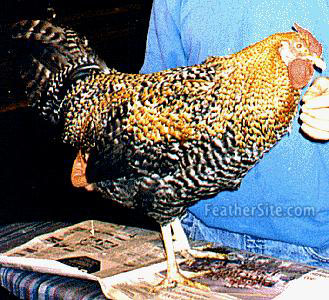 Crele Rosecomb, photo thanks again th Chris d'Orgeix and Feathersite.
Common Faults
The most common fault in Australia is a lack of size and type. Many breeds have been proposed to outcross to to try to regain some substance, these birds must be chosen with caution to avoid any further deterioration in Australian Dorking genetics. Rigorous selection within the breed will yield results over time.
Red flecking and shading in the wing and shoulder of the Silver Grey is often seen, this is a result of autosomal red required to deepen the salmon breast of the hen. The breeder must select pairs carefully to attain a balance between clear shoulders/wings of the male and the richness of the salmon breast feathering of the female.
Black striping in the hackle of the Silver Grey male is a common fault and should be selected against
The fifth toe should be seperate from the others and pointing upwards. Again, selection is the key. Complete absence of the toe is a serious fault.
White earlobes are a fault, although some judges will tolerate some degree of white colouration.
Some strains have been known to be aggressive and highly strung. These birds should never be bred from.
In summary
The Dorking is a magnificent bird and a pleasure to keep. Breeding these fowls is a real challenge, but can be very rewarding. They truly are a heritage breed worthy of the efforts to maintain them.
A breeders' network has recently been formed to promote the breed and bring interested people together. Already we have members in all states of Australia, and we hope in time the group will grow and evolve into a club with strong support. Please visit http://australiandorkings.webnode.com/
References and links
Feathersite http://www.feathersite.com/Poultry/CGD/Dorks/BRKDorks.html
USA Dorking Breeders' Club http://dorkingbreedersclub.webs.com/
Dorking Breeders' Group of Australasia http://australiandorkings.webnode.com/
"Dorking Poultry, Fowls and Chickens" by Jan Irving http://erinrac.com/poultry/dorkingbook.htm
Tony Jones on Flickr http://www.flickr.com/photos/flambard/