Rhode Island
The Rhode Island breed is a very popular breed consisting of 2 variations in colour, being Red and White. The Red is by far the most popular. Both are very hardy breeds of fowl being able to cope well in both temperature extremes.
Whilst being a true dual purpose bird, Rhode Islands are mainly kept for their egg laying capacity, which is in the area of 250+ eggs per year.
They are a fairly quiet & friendly breed, although they can be the dominant fowl in the pen.
They do have a tendency to go broody, however not as often as some, they make good mothers, caring for their chicks quite well.
They come in both Large and Bantam varieties.
Classification:
Dual Purpose
Origin:
Rhode Island USA
Colours:
( Recognised in Australia ) White, Red.
Red variety is to be very deep dark brown in colour, they should have black with green sheen in their tail feathers and black through their wings feathers, their hackles will also be extremely dark, bordering on black.
Legs are to be bright yellow, with 4 toes to each foot.
Eggs:
Light brown in colour, with weights approximating 60-70g for large and for Bantams 50-55g
STANDARD WEIGHTS
Bantam Roo ------ 1.1kg
Bantam Hen -------900g
Rooster -------- 3.9kg
Hen ------------ 2.9kg
History of Breed
-courtesy of Wikipedia
Developed in Rhode Island & Massachusetts, early flocks often had both single and rose combed individuals because of the influence of Malay blood. It was from the Malay that the Rhode Island Red got its deep color, strong constitution, and relatively hard feathers.
The Rhode Island Red were originally bred in Adamsville, a village which is part of Little Compton, Rhode Island. One of the foundation sires of the breed was a black-breasted red Malay cock which was imported from England. This cock is on display at the Smithsonian Institution as the father of the Rhode Island Red breed.[citation needed]
In 1925, the Rhode Island Red Club of America donated funds for an elegant monument to the Rhode Island Red in Adamsville, near the baseball field and across the street from what used to be Abraham Manchester's restaurant. (The monument is now on the National Register of Historic Places.) A competing monument to the Rhode Island Red, claiming its creation not for the poultry fanciers, but for the farmers who grew them commercially in great numbers in Little Compton, was erected by the state in 1954 a mile or so (about two kilometers) south of Adamsville.[clarification needed][citation needed]
Rhode Island Reds and Sussex are also used for many modern hybrid breeds. The Rhode Island Red has been used in the development of many modern strains of laying poultry, due to the characteristic that crossing a RIR male with a number of silver based breeds (such as Light Sussex or Rhode Island Whites) gives rise to chickens that can be sexed at birth using differences in down colour. The pullets from this cross are red although often more lightly coloured than the RIR itself.
Rhode Island Whites
arose from the work of J. Alonzo Jocoy of Peacedale, Rhode Island, which began in 1888. Developed through crosses of Partridge Cochins, White Wyandottes, and the rose comb type of White Leghorn, it was solidified as a breed by 1903. It was first accepted in to the American Poultry Association's Standard of Perfection in 1922. Moderately popular up until the 1960s, it is now a relatively rare fowl. It is listed on the American Livestock Breeds Conservancy as a breed to watch, with less than 3,000 birds known to have existed circa 2003. Like most standard breeds, it also appears in a bantam variety.
Picture's
Bantam RIR
,
This lot wings were clipped as they were flyers.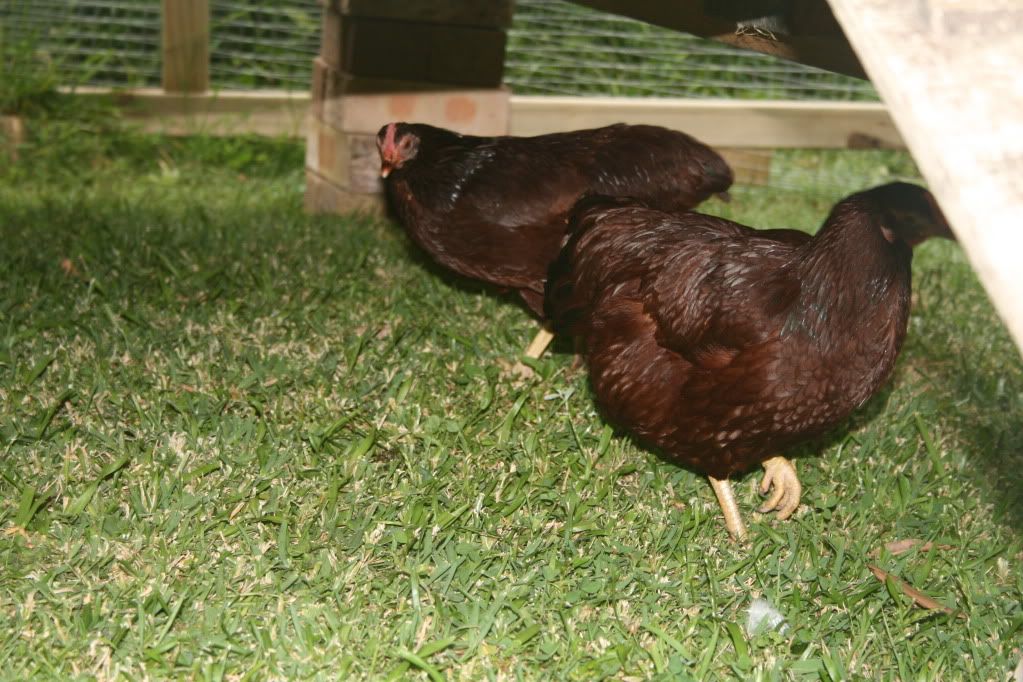 Large
Terrific example of a cockerel, coutesy or New England Poultry
Head shot
Wing shot
Pullet
large Red Pullet
NG Hunter
2005
A great example of leg colour and the depth of the red colouring.
By william ...
Rhode Island White
Rhode Island white by chooksrule, looks like a pullet ...
Pic by bigredsandwhites
Availability:
Worldwide