Red Leakage, Gold Leakage and Sun Discolouration
You have a bird with a pattern that is supposed to be a striking mix of black (or blue or lavender) and white, or maybe all white. But they're not. They have smuts and smears of yellow, orange or red on their feathers. You've given them a bath, and it's still there, right in the structure of the feathers. What's going on?
The discolouration could be due to one of three things:
* Red leakage from Autosomal Red
* Gold leakage from Sex Linked Gold
* Sun discolouration from spending lots of time outside.
How do we tell the difference and what can we do about it?
Red Leakage
Theoretically this occurs in birds who have Autosomal Red (Ar+) and are based on e+, eWh, and to a lesser extent eb. (I know I said that Ar+ doesn't express in eb, but it can have some effect from what I've read). It bleeds through as a red colouring.
On the left is a gorgeous silver-laced Wyandotte with pristine white centers to her feathers. On the right is a blue-laced silver wyandotte with red leakage.
Now I don't know what e base Wyandottes are normally built on, but the bird on the right either has too many copies of Autosomal Red, or isn't homozygous for E or ER, if she's supposed to be. I'll leave that one up to people who know the breed. I'd breed her to a good black-laced silver cock to correct it.
Red leakage is relatively rare, and can make some striking patterns in itself.
Gold Leakage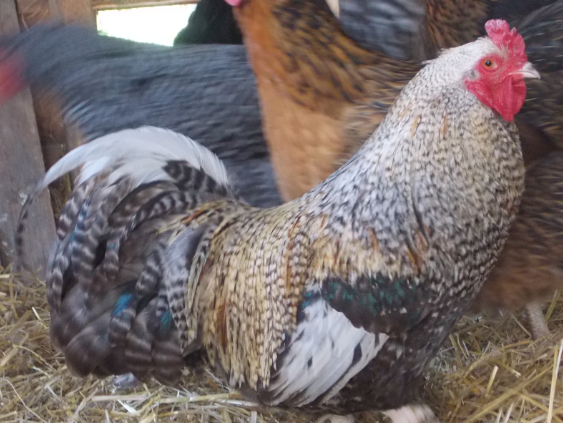 Here's a lovely example of gold leakage. This bird is a cuckoo and should have bands of dark grey and white, but has a yellow colour leaking. Why? And what do we do about it?
In this case it's not because he's supposed to have Silver rather than Gold. Remember that Silver/Gold is sex-linked, so a male can have one copy of each, which makes him yellow, and would express across the whole bird. Cuckoos are not usually Silver, because they don't need to be. We find the answer if we consider what this lad would look like if he didn't have the cuckoo patterning, and the answer is probably something like this: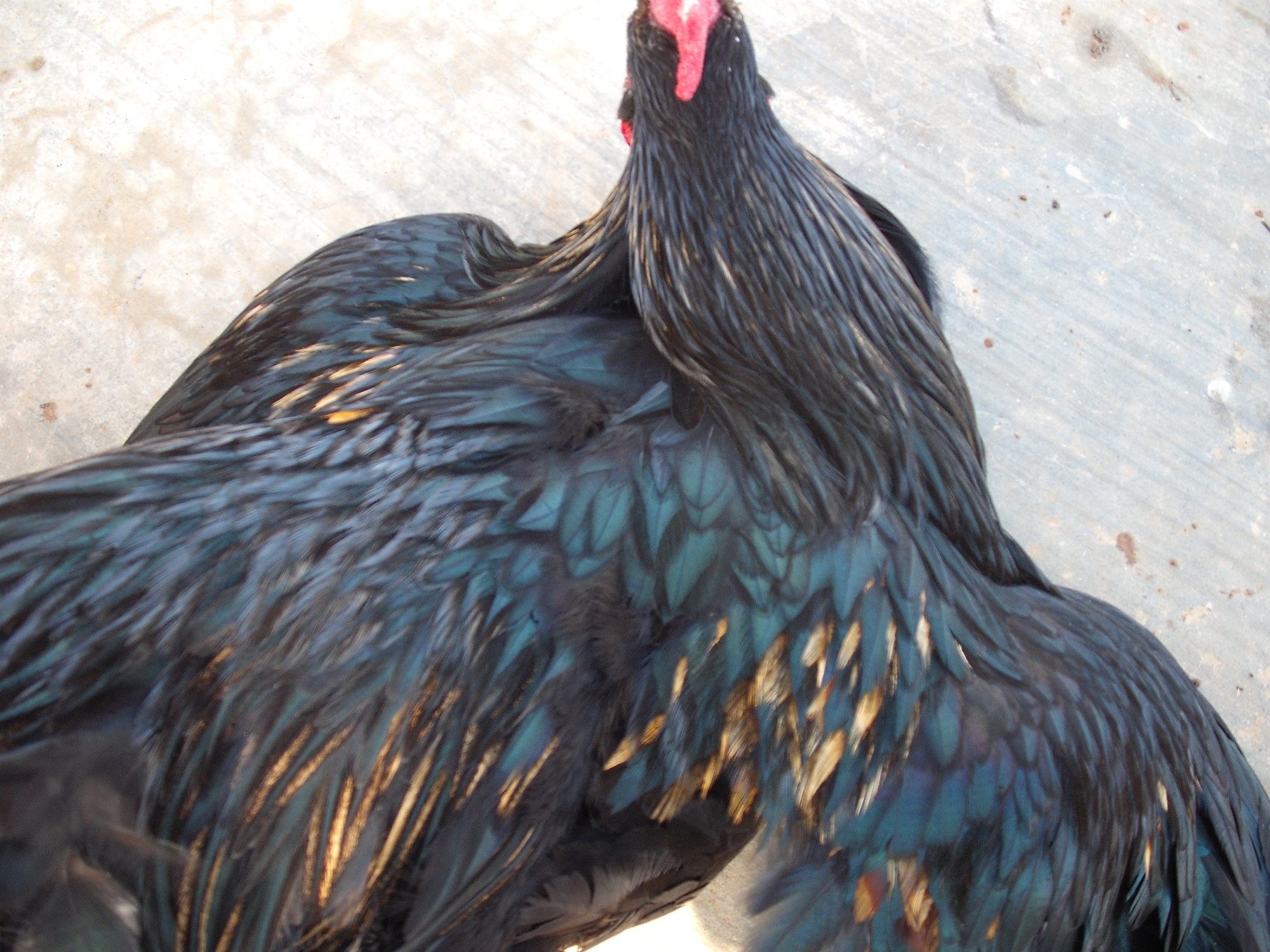 This black fellow has yellow feathers peaking through his colour, which suggests that he has insufficient melanisers. So in order to clear up the gold out of the original cuckoo you need more melanisers to make the base colour completely black. Only when you have a solid base colour can you make a good cuckoo on it. Breed him to a nice, solid black girl to correct.
Of course, the leaky black fellow above could also be a Furnace/Furness, which is a melanised wheaten, and they're supposed to look like that. Which brings us back to using the correct e base. If you want nice, clean black and white birds, build on E or ER as a base, it's easier.
Sun Discolouration
This is exactly what it sounds like, and it's not genetic. Birds with white in their feathers will acquire a yellowish tinge if allowed to spend a lot of time in the sun. This happens particularly to the hackle and saddle of the males, and looks like this:
Check out that lovely gold colour on the cock (ignore the Autosomal Red leakage on his shoulder, we're looking at his hackle).Here's a blue cuckoo set:
The only solution for this is to wait until the birds moult and then keep them out of the sun until it's time to show them.
I'm sure you've noticed that Gold Leakage and Sun Discolouration look very similar, as both tend to affect the hackle and saddle, particularly in males. If you've raised the bird then if it was clean when young and turned yellow later, it's the sun. If it was always yellow, it's gold leakage.
If you've just bought the bird, then unfortunately you'll have to wait until it moults to find out.