The following are all e+ wild type based, varying in eumelanin (black) restrictors (Co, Db).
1. Wild type
e+/e+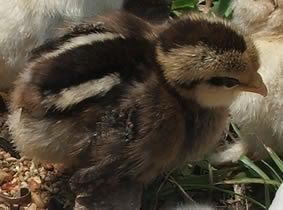 ----------------
2. Wild type with Columbian gene Co
bottom chick - e+/e+ Co/Co (top chick - e+/e+ co+/co+)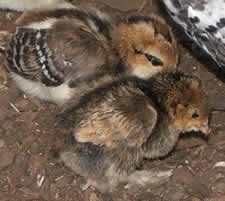 ---------------
3. Wild type with Dark Brown gene Db
e+/e+ Db/Db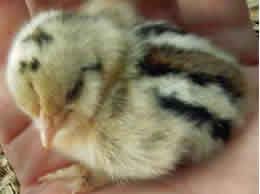 ---------------
-Co on e+ wild type tends to darken back, etc down, but sometimes dorsal stripes are still partially visible.
-Db lightens e+ phaeomelanin down and widens dorsal stripes.
Photo 2 - Co chick is Millefleur, i.e. also has mo mottling gene (e+/e+ mo/mo Co/Co), but this mo gene generally doesn't change chick down colour/pattern with e+ Co chicks.
Photo 3 - Db chick may also have Pg (Pattern). This Pattern gene might in combination with Db change patterning of down some.
======================================
The following are Wheaten:
4. Wheaten, Sex-linked Gold
(no columbian gene, ie co+/co+)
eWh s+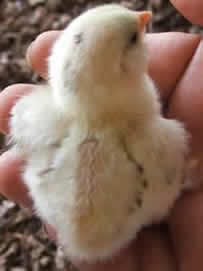 5. Wheaten with Columbian gene, Sex-linked Gold
eWh Co s+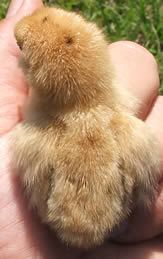 ------------------
Photo 4- Wheaten sex-linked gold co+/co+ (without Columbian) are usually cream. The Db gene doesn't change eWh chick down colour. Therefore, this chick may or may not have Db.
Photo 5- Wheaten sex-linked gold with Co gene, changes the cream chick down shade to buff.
Note, Wheaten sex-linked Silver Co chicks remain cream/white. Therefore, to use wheaten chicks in sex-linked silver/gold crosses for day-old ID of gender, it's usually necessary to have Co - columbian in the birds, as it is very hard to ID between gold & silver in wheaten chicks without Co.
-----------------------------------
* Edit - added Wheaten