A little premature and this could prove to be a little hard to swallow for the Pru fans amongst you, but in a few short months time, I'll be making bacon out of one of her babes.
This is how I'll set about doing it.
OK you lot!
Gather round.
I'm a slow developer and I only made my first bacon in 2010. I got this piece of streaky pork belly out of the freezer.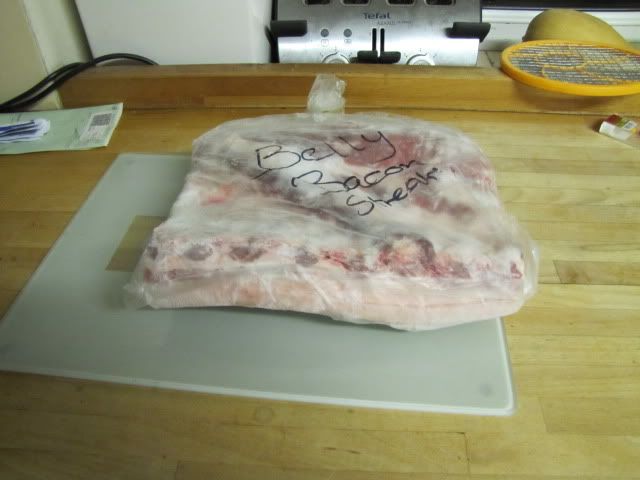 Once it was fully defrosted, then my next step was for me to debone the piece of meat.
Now for the cure. We made this from what we had at hand and used a mix of two parts sea salt to one part brown sugar and also used a few cracked pepper corns. We went with 150 grammes of the mix to every kilogram of meat.
The mix. Not much to look at but it does the job.
I spend a good few minutes rubbing the mix into every nook and cranny. I even put some on the pork.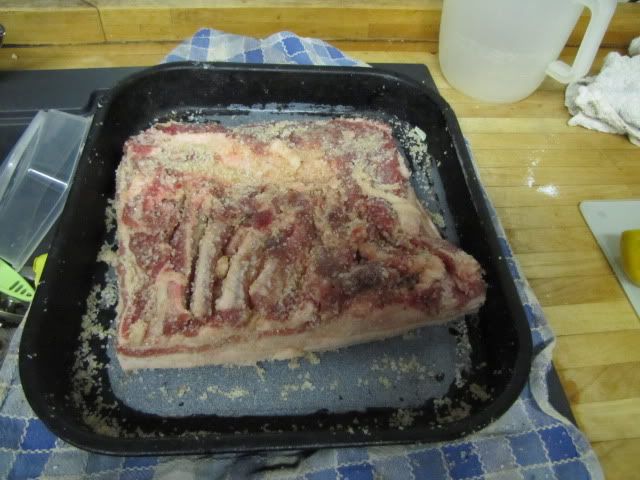 Into a bit of tupperware and on with the airtight lid.
I drained the liquid from the container for the next five mornings as the bacon began to dry.
My youngest lad was the first to put an order in for the first rashers.
My bacon.
Before.
After.
In truth, this first lot of bacon turned out to be quite salty but after the whole side had been soaked in cold water for an hour or two, it was truly scrumptious.