fuscipes wrote:
Hi Azira
Your daughter's story is a classic
I have a batch of Indian Game and Barnevelder cockerels to kill this week and will try the pithing method. I would be interested in any details of your experience and the tool used.
If pithing somehow causes rigor to occur sooner I will have to be quick with the plucking process as the drum plucker mangles birds once rigor has set in.
I used a short bladed knife to do the pithing, about 6cm long. This one in particular, although any sturdy short blade would do I think. Don't use anything longer than that, otherwise you'll do what I did the first time I did it and go out the back of the skull and stab yourself in the hand.
Hang the chicken up by it's feet, with a bucket underneath it. Hold the head by putting your hand over the front of it's face, basically covering it's beak and eyes, then a short, firm and quick movement up and in, then slightly wiggle/twist the knife to pulverise the brain. It requires very little force to go in, but you do need to be firm.
I initially tried to go in via the mouth, but holding it's mouth open freaked it out too much, I didn't even want to try sticking it while it was trying to wrestle it's head away from me. So instead I went in quickly through it's bottom jaw and straight up into it's brain. It sounds worse but it was actually quicker and I think more humane, it would have been far more stressful for the bird to go in via it's open mouth (particularly because I was doing it on my own).
You need to aim towards the back of it's eye, but don't aim past it's ear. That way you should get the back part of the brain, which stuns/kills instantly and will keep the feathers loose. If you hit the front of the brain it will cause the feathers to set tighter. These pictures give a rough idea of where to aim, but it's always a bit more difficult in practise.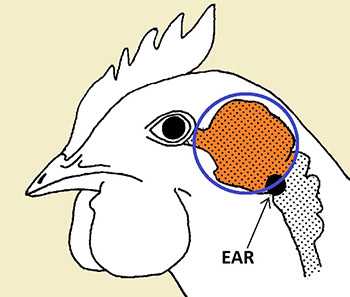 Pithing alone will bleed the chicken out, but it is a slower process, so I immediately cut the artery/veins in the neck to bleed quickly. Apparently if the blood coagulates rather than flowing freely it means you've missed the mark in the brain, but I'm not sure how true that is, it's just something I read in passing.
It's not so much that rigor set in quicker, if anything it didn't set in as quickly as from when I just bled them, but it seemed to go through the rigor process a lot quicker overall. I put the dressed chickens in the fridge on the Thursday after I did it, and they were well and truly done with it by the time I vacuum sealed them on Friday. Whereas the Aracuana I just bled took a couple of days to fully relax.
You'll be fine pithing and bleeding them and still being able to put them in the drum plucker afterwards. While they were a lot easier to pluck, I'm not sure I'd forgo scalding them before putting them in the plucker, it only takes a few seconds to do really, so it's worth doing just to ensure a nice clean pluck.
While we are on the subject of drum pluckers, did you make or buy yours? I really want to make one, I'm slowly gathering the bits and pieces I need. I want to do it on the cheap so I'm looking for things I can re-purpose rather than just go out and buy all of the bits.
Good luck with it, do post with how you went with it all.
hennypenny wrote:
Haha, wonder what the teacher thought!
Luckily he's got our sense of humour so he found it as funny as we did...and he may have taken a photo to share with his teacher wife also, lol.
When I was preparing things to do this latest batch of chickens, she actually asked me to wait until her birthday so I can kill them in front of the party guests, as there are about 6 kids at school that want to watch me do it! Omg, can you imagine if I did that!