Everyone,
since I moved my ducks & chooks to a new area, they lost access to a permanent water bath. Since then, my muscovy developed an eye condition (it is healing) and one of my Khaki Campbell lost some feathers and developed a kind of dandruff.
I decided therefore to provide a no-fuss automatic bath. This is a guide for other water fowls lovers like me who do not have the space for a full-size pond with filters, pumps and such.
Please note that I am lucky enough to live in a recycled water supply area (Glenwood - using the Rouse Hills water supply). This bath is attached to that and not subject to water restrictions. You can do the same using a rainwater tank and similar.
Let start with listing the principles of all this.
1. The area has water connection (simple long garden hose will do) but not necessarily power. I wanted to develop something not requiring electricity.
2. The area is confined, not much space is available.
3. No point in breaking the bank
So what are we going to use? I bought all bits & pieces in Bunnings.
1. Plastic container - the one that I am using is 75cm x 40cm, 15cm deep.
2. Pope water timer LCD computer with 2 outlets. $62 - this can be replaced by cheaper timers, I didn't bother for a few bucks difference. It uses 2 x AA batteries, not provided (buy them!!).
3. Aquapro Magic Pond Sucker - this uses the water pressure to create a suction (Venturi effect) - kind of water pressure activated pump. $32. There is a description here:
http://www.waterfeaturesonline.com.au/P
... ductId=617
4. Many meters of 19mm black poly irrigation pipe, $7.20 for 20 meters, for waste water. How many meters? It depends on where you plan to dump the water!! Do not go over 30 meters.
5. A garden hose to be cut into sections and fitted with female connectors.
6. two spring clamps, around $5 each - these can be replaced with screw clamps, more stable. I used the spring ones to experiment.
Assembly - well quite simply, put everything together as from photos below. The black pipe is the waste water - it goes to irrigate my veggie patch. You need to put the water intake on the higher corner, and the suction on the opposite lower.
IMPORTANT - the Aquapro Magic Pond Sucker uses pressure to work its magic. If you try to attach a sprinkler, or any form of reduction to the wastewater poly pipe, it will stop working. Also, the longer is the pipe, the more resistance it will offer - the longer you will have to run the water to drain the container.
With 25 meters of black poly for wastewater, it takes 10 minutes to empty my container.
Programming of the computer is easy. I am running it every second day, at 5:00am. I start with draining the container (10 minutes), then 3 minutes later it refills it (2 minutes).
That container is sufficient for 2 ducks together (comfortable), or 3 a bit squashy. They simply love it and they couldn't stop using it since I installed it!!
Photos:
Ducks bath: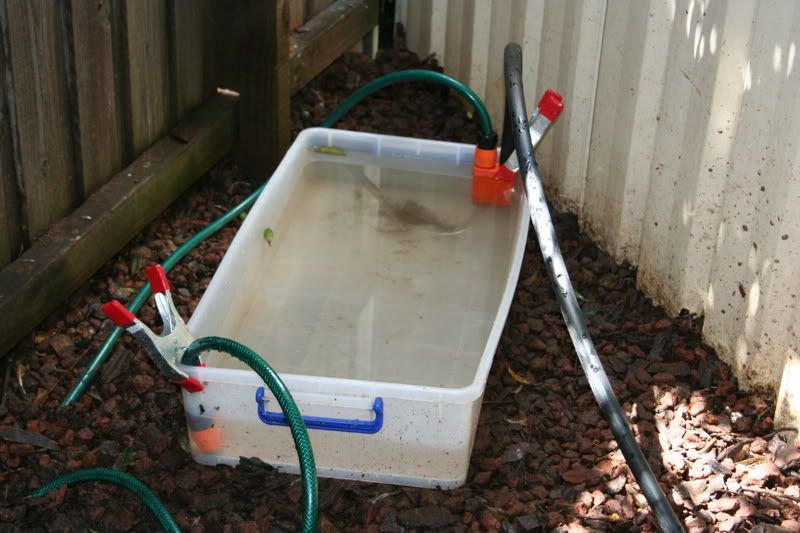 Aquapro Magic Pond Sucker detail: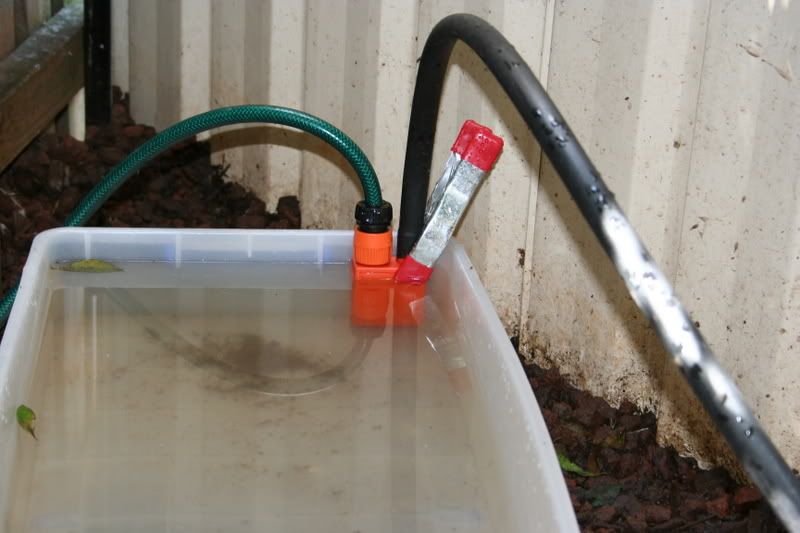 Pope water timer LCD: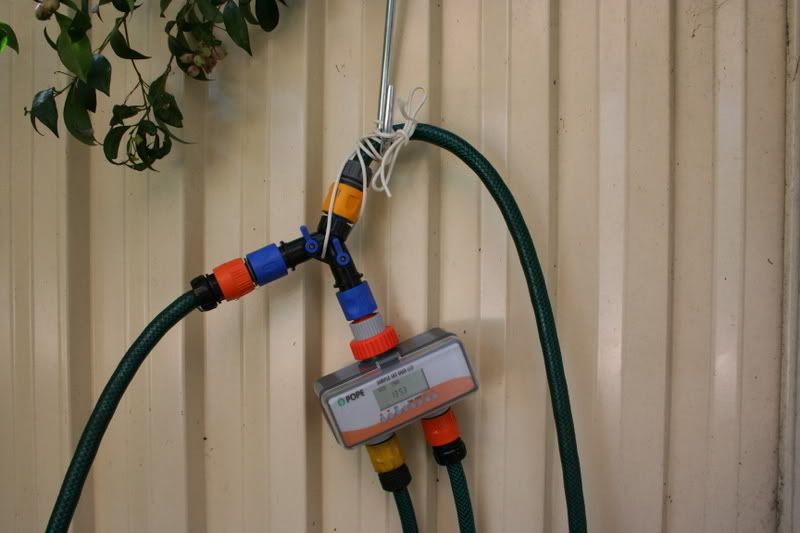 Hope you enjoy it!!