this is a carry on from this thread
viewtopic.php?f=16&t=8017004
i'm posting this for educational purposes, please feel free to jump in and challenge any asspect, as may have over looked something?
these are birds i have breed, from birds i have breed, and i've got good records of the whole process thus far. this is what i believe to be an example of incomplete dominace of M+ over md.. these are by definition cross breed birds, and if you were to follow the exact same steps as i have to this piont i would not be suprised if your outcome varried to whats in these following pics..
alittle on the histroy first,,these are wild type light phase birds unless indicated like this (?/?)
drake1 x duck1= F1 all out comes as explected
F1duck x drake1= all outcomes as expected, non kept, basically this was just a cross test to confirm M+/M+..li/li(in the drake,F1 females had typical light phase markings)
drake1 x duck2 = F2 all outcomes as expected
F2drake x F1duck= all outcome as expected,,non used below.
drake1 x duck3(M+/md) = F3,, split hatch of wild type and wild typish( one eye strip and all areas of black washed through with yellow)
those that looked correct for ture wild types were kept and from there
F3darke x F1duck has produced a split hatch of wild types and these
centre back there are two ducks without eye stripe, and front centre standing between the two wild types is a drake marked the same.
these 3 young hatched without eye stripes and actually looked more like khaki campbells. the four dorsal spot were barely visable..
my first impression was i've just found brown dilution hiding in the F3drake?,,but that means F1 drake had to have it too??
but if that were the case i should have hatched some females proir to this with brown dilution and i havent.
even if brown was there? these 3 should still have the wild type markings..
this guy excludes brown anyway as he is drake, and is the bird standing front centre above
this is one of the ducks showing the single chevron of a light phase bird on the flanks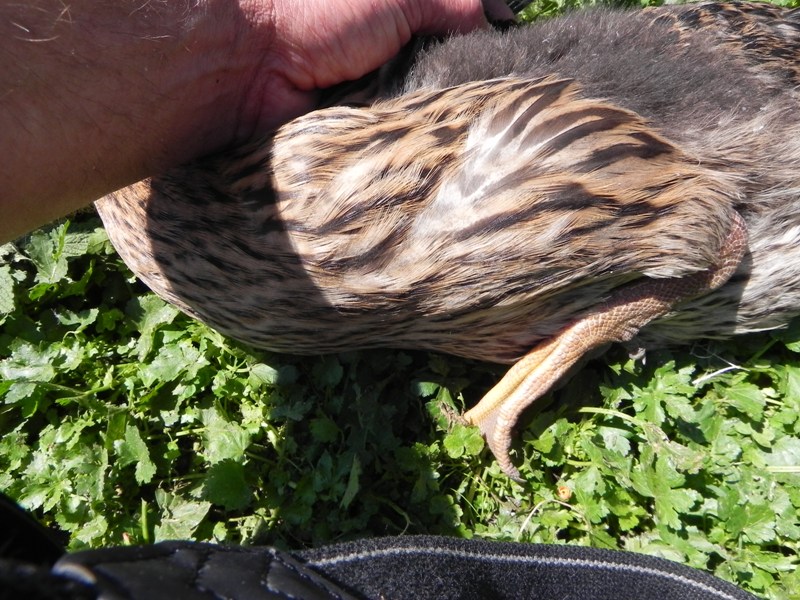 and this is the other duck slightly young,,again no eyestrips
other things to note on these birds are the bill and leg colouring, it is darker than the other birds that look like wildtypes, was really dark when they hatched and is slowly fading,but i expect the bills and legs to stay a shade or two darker than the wild types. i also expect the ducks to continue expressing a lack of eye stripes,
this really does highlight why keeping records can be so important..and is why i believe the parent birds to be M+/md,the birds you can see faults in at any stage of development aren't much of an issue as they are easily spotted and should be removed,i guess the mistake was made back at F3 where i saw a split hatch as expected, but then made the assumption that if i could see the suspected md in some, then those that looked right didnt carry it.but as stated at the top, i may have over looked something and if you can piece together a genetic combination you think could produce the above lets discus it
and so you can see mum and dad
here is F1 duck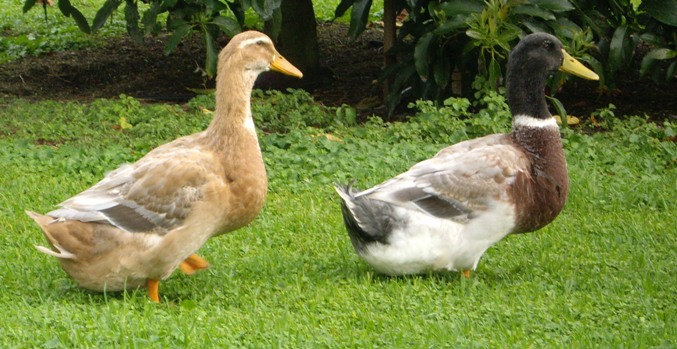 and F3 drake