I have a Khaki Campbell duck and I'm not sure if it is a male or female duck.
This one is about 18 weeks old and hasn't laid any eggs (but is not being fed laying mash).
I always thought that the duck was female because it is very chatty, quacks up a storm, and has a huge attitude all the time.
But within this past week, "she" has developed a curl in her tail. I don't know if it's a drake feather or just a weirdly curled tail. I've never seen curly tails on female ducks, but I have never come across such a loud male duck either.
This is a pic of Micah (Mee-kah).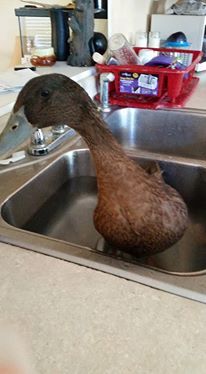 Tail curl:
Any way to clear this up would be appreciated