Introducing the Cast

The Wheaten Flock
This flock has taken some time to put together from a wide variety of sources as wheatens are not widely bred. I think they're a beautiful colour and hope to change that. Note that my hens are currently lacking their full tails as they are trimmed for breeding.
Major
Alias: Pretty Boy, Ouch-Gerroff.
The Wheaten flock is headed by Major, a pullet-breeding one year old chap from Kevin Adams. He is genetically red-blue, but has so many melanin restrictors that you can only see the blue at the base of a couple of tail and wing feathers. This is because hens with clear ginger hackles with no black are preferred in the shows, and his daughters should have this trait.
He is a very attentive mate to his ladies; looks after them, dances for them and protects them from dangers. If anything he is slightly over protective and when he and his girls are free-ranging but hanging around their pen I have to be careful when I walk past because he has a tendency to go for my ankles. This is obviously territory related as he only does it in that location. I am trying to teach him not to bite the hand that feeds him by plying him with treats, but he even though I must have given him 30-odd meal worms the other day he didn't eat a single one, taking each from me and passing them carefully to his hens.
Biscuit
Alias: Bickies
A blue-tailed hen with good shape but a lot of melanin in her hackle, Biscuit is two years old and the first wheaten hen I aquired after Wheaty. She came from Newcastle. I love the paleness of her blue, and have at times wondered if she isn't a dark-coloured splash, but at the moment I don't think so. She is a very quiet, gentle hen.
Shortbread
Alias: Shorty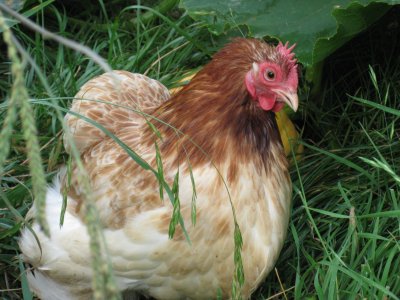 I am unsure of Shortbread's origins or age as I got her as a hen from someone who'd purchased her not long before and then decided to focus on a different colour. Easily the quietest of the flock, she does things in her own time and is generally a day late and a dollar short to everything. She has a lovely shape and beautiful white underfluff, although the darkness of the colour on her back makes me think that she is carrying Mahogany.
Cupcake
Alias: Greedy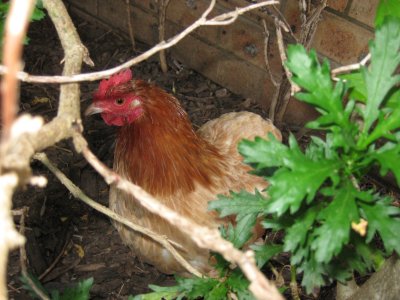 Cupcake was hiding from the Paparazzi this morning. She is a one year old blue-tailed wheaten from a Queensland bloodline. She is one of my most friendly and assertive hens, and second in the pecking order. The plus side of her personality is that she will fearlessly follow me around the garden and eat grubs from my hand, even jumping for them which is just too cute! The downside is that she will push others out of the way to nab treats for herself. She makes a very grumpy broody.
Buffy
Alias: Buff-buff
My first Pekin after moving to Canberra, Buffy is pushing three years old now. Even though she didn't actually make it as a buff I love her 'honey and cream' colouring, and I like to think of her as a 'Champagne Wheaten', which sounds better than a 'failed buff'. She is quiet, a good mother and surprisingly solid for a Pekin, something I like as many of them are all feathers and no substance at all.
Kentucky
Alias: Tuckers, Tucky Chicken, Kentucky Chicken, Gonna Add The 'Fried' In A Minute (when misbehaving)
The first thing that you will notice about Kentucky is that while she is wheaten she is not a Pekin. She is in fact a Japanese Bantam cross (don't know with what). She was a bit of an accident at an auction; she was in a box with a wire mesh lid with four chicks and I couldn't see her very well. But it was a very happy accident as she has proven to be arguably the best mother of all my hens, seeming to like nothing better than a batch of chicks to raise. She is placid, talkative, friendly and able to get into places she shouldn't be much better than the others. She is of course much sleeker and I tend to forget that she can fly (Pekins can't). When in the flock she is quietly assertive and occupies the top hen spot, even telling Major where to go when she's had enough of him. A little chook with a big personality.