Went to Berry on the weekend, hopeful that I would find one or two pretty hens to bring home and integrate with my existing flock of 7 bantams. We had a lovely time at Berry and after a bit of deliberation I decided that I REALLY wanted two little buff pekin pullets. They were only 9 weeks which was younger that I was expecting to bring home but they were beautiful and healthy and active and I was determined to have them! There were two other bidders who were also keen on them but I just went up and up and up until they dropped out - $120 each!
Thankfully they were the fourth 'item' to be auctioned so I collected them quickly and we came home. I was so surprised by how friendly they are - I thought they would be stressed and wary of people but when I put them in their new home they kept heading back through the door and sat on my lap. Because I am a bit obsessive about my chickens' health and because they cost a fair bit, I took them to an avian vet on Monday and had them checked over. Both are healthy, no cocci, protozoa etc, there was one worm so I wormed them with 1/4 wormout tablet. One is 350g while the other is 250g so I'm not sure if one is a little older or if it is just bigger. I get paranoid that the bigger one is a rooster because, being a little bigger all over, she has a slightly bigger comb. When I think about it though, proportionate to her size, it's about the same as the smaller girl. To be 100% sure they both had little blood samples taken for DNA testing so I can confirm their gender. They were both sold as pullets and there was a separate Pekin breeder there who thought they were both girls but just for my own peace of mind I decided to have the test done. Will find out in about a week!
Today I had the day at home with them and again they surprised me with their friendliness - I took them out the front to peck around they hardly left my side and when they got tired they both jumped on to my arm and started grooming themselves. They are in quarantine in my neighbours yard but I brought them out of their cage this afternoon again and they had a dustbath in his garden, cheeping contentedly. I'll keep them there for about 6 weeks, partly for quarantine purposes but also because they are still only half the weight of my smallest hens and about 1/5 the weight of the rhodies and Aphrodite.
So because I am a proud mother, here are some photos
Here are the two bottoms, little balls of fluff (you can see the one on the right is bigger)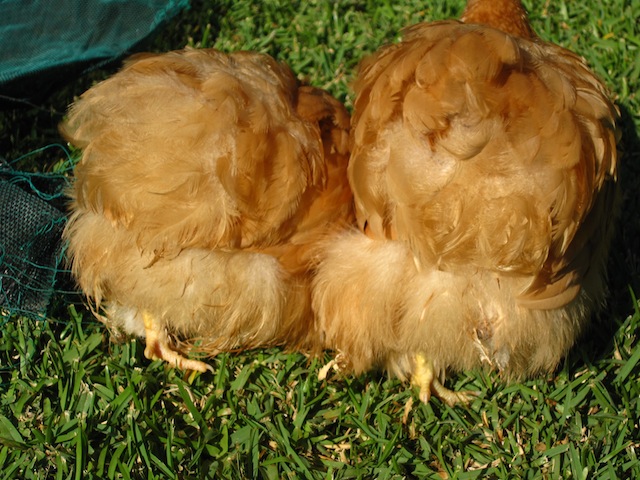 And here is my bigger girl, her name was supposed to be Glitzy but she isn't very glitzy - of the two she is the more quiet one.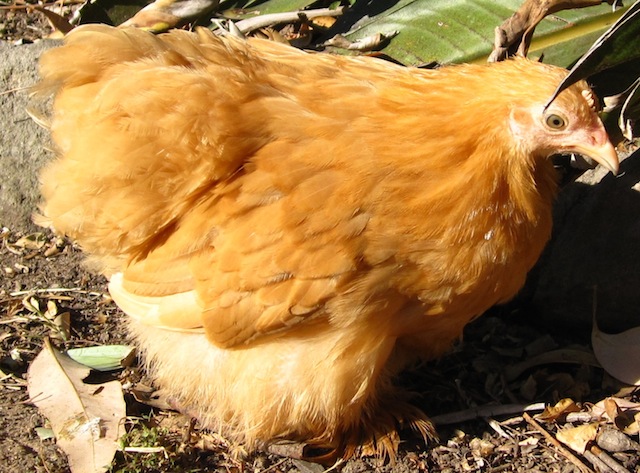 And here she is again this afternoon. You can see that the different lighting makes her look washed out in this one.
And here is Honey this morning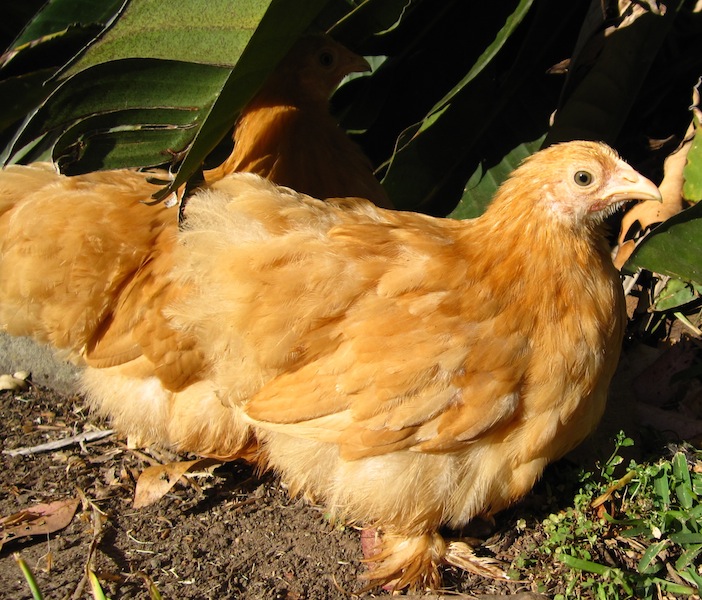 and looking paler in the afternoon light
I love them both already