Its been awhile since I posted news from my blue silkie pen ...
The girls are 1 year old now and I'm sooooo pleased to say they are all doing great (touch wood!) They survived being transported from interstate in the heart of summer last year and haven't succumbed to mareks exposure despite being unvaccinated. So I thought these girls are good candidates and are ready to breed from.
I was waiting on fertility with no success all spring. Then after a decent trim of all those fluffy butts, finally fertile eggs yay !
I had lots of broodies so decided to put 12 eggs in total under 2 broodies. When I candled them 9 out of 12 appeared to be fertile.
And guess what ? 9 out of 9 eggs hatched !
I have 3 blue and 6 splash (or blue based splash) healthy 2 week old silkie chicks running around their mums like little fluffballs. One has a vaulted crest and its so adorable. Its going to have a huge pom pom.
A friend in Canberra was keen for some eggs so it was a good chance to have a practice go at sending 1 dozen eggs in the mail. They all arrived intact and are currently in his incubator. He messaged me to advise 9 out of 12 were fertile when he candled them. Hopefully he will have a good hatch but I'm really pleased with those results from eggs posted in the mail.
I haven't forgotten you were interested in some eggs Possum Corner but it all happened late in the season and I wanted to do a 'test' run before sending any eggs. If you would still like some in the future just let me know.
I will download pics of the chicks but in the meantime here are a couple of my girls all grown up and Pluto, now a big, boofy, fluffy man.
I'm so very pleased with my blues and Blossom (my buff) is doing so well despite her head trauma when she was young.
Tiffany and Neptune (on the right, the skinny one I was originally worried about)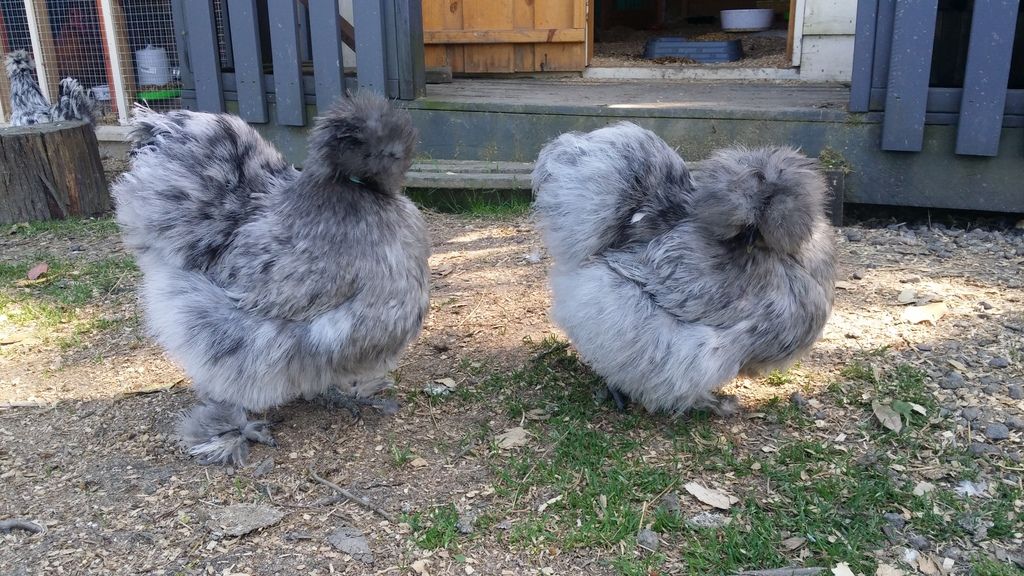 _________________
Love my girls - Silkies, Pekins, Campines, Light Sussex, Bantam Orpingtons, Isa Browns, New Hampshires
Silkie crosses, 8 roosters and forever in my heart my precious Thumbelina.