Ok so my silkie dreamcatcher is done. It took me hours to do but I'm so pleased with the end result.
I bought this dreamcatcher off ebay and removed all the feathers. It took awhile as they were glued into the beads.
Then I sorted through all my silkie feathers (which were from 1 silkie !) and tried to match up similar size feathers, put dabs of glue on the tips and inserted them into the beads. My fingers were soon sticking to everything
I'm so happy to have this I cant stop looking at it !
Now I need to make my second dreamcatcher from Pekin feathers, Light Sussex, Campines, Silkies, Isa Browns and New Hampshires. ALL my girls wanted to be a part of this. Even my blue cuckoo rooster dropped some of his stunning, sweeping tail feathers for me.
After so much heartache last year, my girls have all done their utmost to bring me so much happiness
(I didn't know how to reduce the size of the photo to give a better view)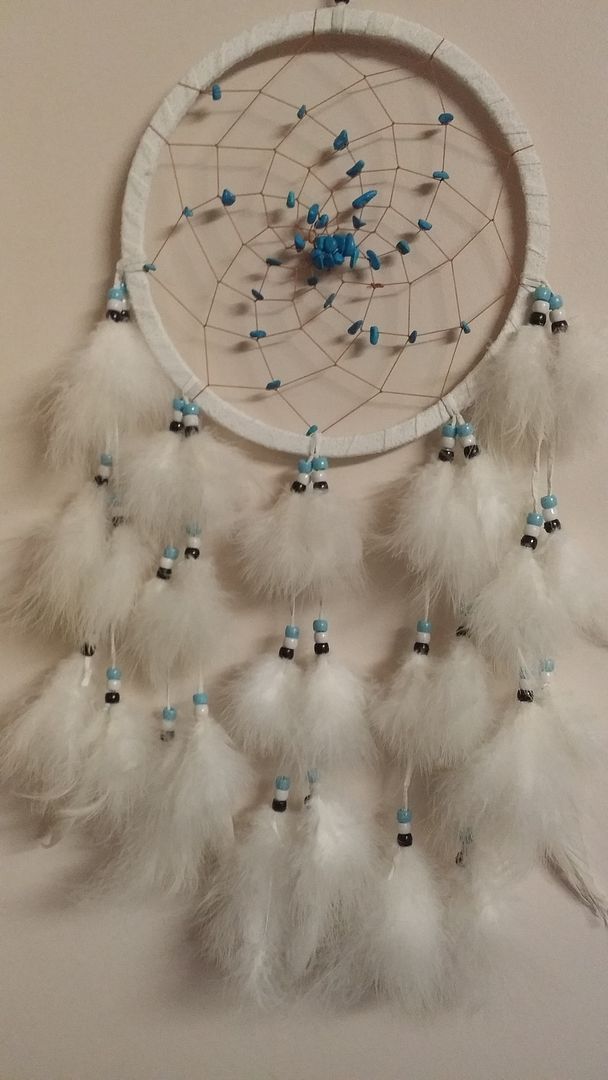 _________________
Love my girls - Silkies, Pekins, Campines, Light Sussex, Bantam Orpingtons, Isa Browns, New Hampshires
Silkie crosses, 8 roosters and forever in my heart my precious Thumbelina.