Today I have found one of my wyandottes cockerals to have a sinus infection, so I thought I'd take some shots to demonstrate what it can look like. This boy is about 5 months old and hasn't been sick. In a mixed flock the cockerals of this age seem to be far more prone to any health issue. He's in that growing phase where his nutrtional needs are high, and he was the only bird to show vulnerability to disease. He was moving around completely normally, free ranging, roosting, no leg issues, no coughing, no sneezing. I didn't realise anything was wrong with him until I saw the swelling in the sinus - not the eye.
Here he is:
He's got good colour in his wattles and comb, and I don't believe he has any nutritional deficiencies. There's no other sick birds. He's just got a cold. I wasn't sure until I opened his mouth and saw some mucous.
The swelling itself feels hard to touch. I can move it around and feel that it's free from the underlying bone etc. There is no way this can be squeezed out anywhere. I would think that in an ideal world of limitless resources, a surgery might be done to remove it. I have heard of these swellings going down themselves after many weeks, or even months, so maybe he'll get lucky. So far I've never had one this bad pull through.
I had a good look in the eye to see if that was involved at all. It looks clear to me. So this particular infection seems to be only in the sinus at the moment. I wonder if it will move into the eye. Time will tell.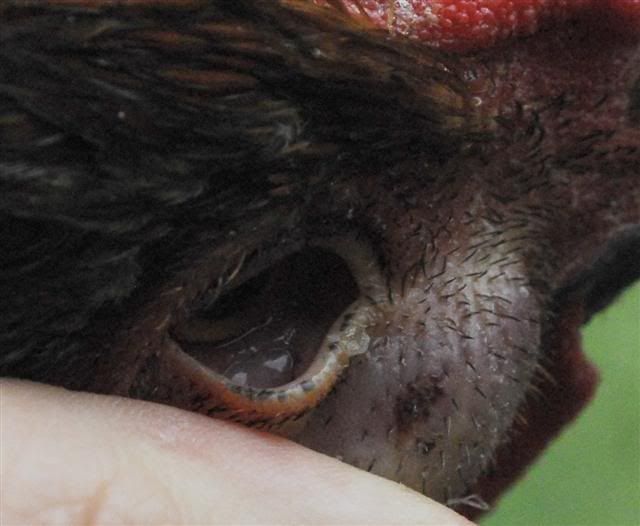 The other side of the face looks completely normal.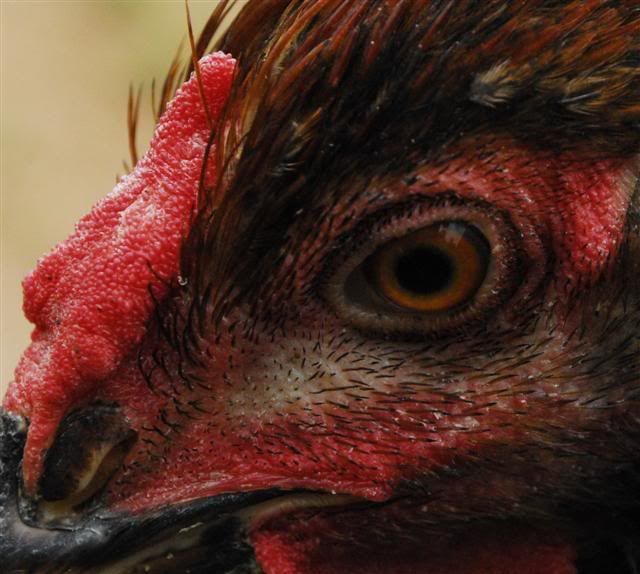 I give him a 50/50 chance because he's in great shape and eating well. It now depends where we go from here. I'm not going to the vet with this one, because the thing that is the most helpful - sinus flushing - is enormously expensive. I'm not going to give him oral antibiotics either, because I want him to have tip top digestion. I'm going to put him on the rickett's diet and see what happens.
I've seen a few eye and sinus threads recently so thought others might be interested. I have now isolated this bird from the flock. Some breeders might cull him at this point, but I'm still curious about the disease process here, and he doesn't seem distressed at all. I took the last one to the vet to satisfy myself about whether the injectable antibiotics were worthwhile. This time I'm going with the 'feed well and wait and see' approach. I'll keep you posted.