Information and a selection of bumblefoot photos for reference. Put together with input by Hobbyfarmfun.
Bumblefoot
Also called: staphylococcosis, plantar pododermatitis. Affects the foot pad, progression is chronic.
Symptoms
: in maturing birds, especially in males of heavy breeds: lameness, reluctance to walk, inflamed foot (one or both), hot, hard, swollen, or pus-filled abscess or dark black scab on bottom of foot, resting on hocks; sometimes sores appear on hocks and bottoms of toes. It's a painful condition. Sometimes there is a small black scab. Sometimes the injury that allowed the entry of the bacteria has healed and there's no sign of a scab at all. Also note that in some cases there is no limp or signs of ill health and it's worth doing regular checks on your birds to ensure their feet are healthy.
Advanced bumblefoot is a necrotizing abscess on the plantar surface of the foot. Depending on the location and chronicity of the abscess, infection may or may not extend to neighboring joints, tendon sheaths and bones.
Mortality
: up to 50% if left untreated.
Postmortem Findings
: pus or cheesy material in foot pad; sometimes hock joints filled with grayish white fluid
Cause
:
Staphylococcus aureus
bacteria, present wherever there are chickens
Transmission
: Bacteria enters foot through injury caused by splinters, sharp roosts, jumping from roost on to hard or rocky ground, housing on wire, irritation due to improper litter management.
Prevention
: practice good sanitation; provide deep, dry litter that does not pack; avoid high perches; round off edges of perch and sand off splinters; feed vitamin supplement (especially vitamin A); do not breed susceptible chickens to avoid getting more of the same
Treatment:
In very mild cases, cleaning the foot well by soaking in saline and scrubbing it, then applying some type of topical antiseptic and a bandage for a number of days can work. Some members use Centrigen spray. In established infections more vigorous treatment is necessary and healing can take many weeks. While it is possible for some more severe cases to heal without antibiotics it does take successive cleaning and rebandaging treatments. There are no guarantees, however, and the best course is always a trip to the vet for prescription antibiotics.
Chicken Health Handbook
: difficult to cure; inject swollen area with 0.5cc penicillin/streptomycin; if abscess is large, wash foot, cut open abscess, squeeze out cheesy core, rinse well with hydrogen peroxide, pack with Neosporin, wrap foot with gauze bandage or strip of clean cloth, and tape; confine bird on deep litter and dress foot every 2 or 3 days
Poultry Diseases – Jordan
: Control – Birds in the early stages of infection and disease may respond to treatment but those with well established lesions are unlikely to respond.
S. Aureus
in inherently a rather resistant organism. Penicillin, streptomycin, tetracyclines, erythromycin, novobiocin, sulphonamide, lincomycin, spectinomycin and fluoroquinolones have all been used with some success, but antibiotic resistance is common. Reduced exposure to immunosuppressive viruses and avoidance of stress and aggression are likely to be beneficial.
Avian Medicine: Principles and Application. Richie, Harrison & Harrison
The goals of advanced bumblefoot treatment are to reduce inflammation and swelling, ensure an adequate diet, establish drainage if needed, begin an antibacterial therapy to eliminate underlying pathogens, manage the wound and address any dietary deficiencies. Treatment for advanced lesions must be vigorous and prognosis is guarded. For less advanced cases, options may include changing the diet, changing the perches and litter, applying topical meds for minor cracking and scaling, bandaging.
Some practical advice from BYP members:
Opening the infected area to remove the pus
- Sometimes Bumblefoot doesn't have a puss filled pad, check before you cut.
If your going to do anything to the bird, it is always a good idea to have a helper with you, but you can do it yourself, just make sure the bird is unable to move about, if you have a stretch bandage, then wrapping this around the birds wings, will certainly help. Before you start, put on a pair of disposable gloves, you don't want the staph infection getting into you, if you have any small nick in your skin it can and will get in to your system. Wash the leg and foot, gently scrub with betadine until clean at least 30 seconds. If you can soak the foot until the scab is soft, do that and then pull off the scab. Lance the pad with the needle or scalpel and squeeze out the pus. There will be some bleeding. If there is a lot of bleeding, hold pressure with a sterile 2x2 pad until stopped or under control. Sometimes it's possible to work the core of the infection loose and with a cotton bud. You may apply some hydrogen peroxide. If its a staph it should bubble furiously destroying the staph in the process. But be careful because the peroxide is pretty corrosive and should not be over used. Another alternative is Betadine or iodine.
Apply Neosporin or one of the creams based on Chlorhexadine (such as savlon) to the site. Apply a sterile gauze pad 2 x 2s for padding. You can either use a stretch bandage or wrap the foot firmly with tape. Wrap so the toes and spur are exposed. Don't wrap so tight that you cut off circulation. Change the dressing in 2-3 days. Keep the chicken confined until the pad is well healed so that it won't open up when they go back to free ranging.
Once the wound has been cleaned out (if necessary) an alternative topical antiseptic is Manuka Honey. This is a medicinal quality honey that is available from most pharmacies. Manuka Honeys are rated using a UMF (Unique Manuka Factor) rating, and the optimal UMF rating for therapeutic use is between 10-18. This has been proven to have antibacterial activity that is not present in any other type of honey. Manuka has been proven as another option for
treating staph infections particularly in chronic wounds.
Human Health Risk
:
Superficial skin infection (impetigo); wear plastic gloves when treating a bird, wash hands afterward, gather blister contents in paper towel and dispose by burning or deep burial.
Sources – Collated and paraphrased from:
The Chicken Health Handbook 1994 Gail Damerow
Poultry Diseases 6th ed Jordan 2008
Avian Medicine: Principles and Application, abridged ed. – Ritchie, Harrison & Harrison 1997
Photos from BYP members showing possible cases of Bumblefoot
This is Helenchook's bird and if you wish to read the thread here it is:
viewtopic.php?f=5&t=7971176&hilit=%3Cspan
Another case owned by Hobbyfarmfun - A previously cleaned out abscess that needed to be soaked, recleaned and redressed. The swelling was hot and inflamed. This wound was opened at three different points. It's worth noting that this bird was not given antibiotics - just regular cleaning and bandaging and has healed up well over a couple of months. The affected foot appears slightly larger than the other one, probably due to scar tissue.
Dressing on bumblefoot. Gauze underneath with a small trimmed piece of vetwrap over the top. That stays on well and you don't need a lot of it.
Here's a picture from elsewhere showing the cheesy core removed from the abcess in quite a nasty case.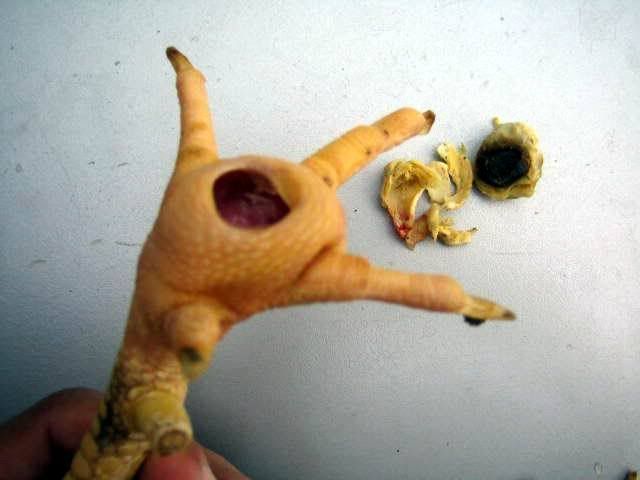 Sometimes the infection can create a lump or lumps between the toes: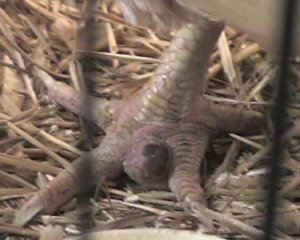 A vet consult and treatment is obviously the best way to go, but if that's not possible it is worth trying to assist the bird yourself. Even though it doesn't always work, there are many success stories, and it's definitely worth making the attempt.