Now an example closer to home. This is just what I do. Others can make their own choices.
I go to Bunnings and I buy David Grays Ant & Termite Spray. I pick it up in the Garden Section. I think I paid less than $20, but if you buy it online
here
it costs $23.00. It wouldn't bother buying something like this online. You can get it easily at local places. It looks like this: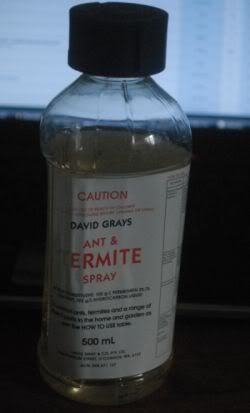 The label says:
Active Constituent: 100g/L Permethrin 25:75
Solvent: 792 g/L Hydrocarbon liquid
If I go to the MSD it tells me that it's 10% permethrin.
http://www.davidgray.com.au/files/DAVID%20GRAYS%20ANT%20%20TERMITE%20SPRAY.pdf
So to use this product as per the above post, I need to dilute it firstly to two strengths - 0.05% solution, and 0.1% solution. The 0.05% is for the birds themselves, the 0.1% solution is for the housing. To do that I use the following rates:
Firstly to get the 0.1% solution I need to dilute the product 1:100. So 10ml in a Litre does that. That takes care of spraying the housing.
Then half strength for the birds themselves - dilute 1:200. That's 5ml in a Litre. Easy.
So spray the housing with a dilution of 10ml/L.
Spray the birds with a dilution of 5ml/L.
When spraying make sure you've removed all food and water so that it can't be contaminated. Also remove all loose litter and burn it or seal it in a bag or dispose of it. Clean everything first. Then spray thoroughly making sure you get into all the nooks, cracks and crannies. Let it dry before putting the birds back in. I also think it's worth quoting Looloo's advice regarding spraying.
Quote:
Pay particular attention to the vent area when spraying to insure complete spray penetration and coverage.

Never do spray your birds on a wet or cold day
Never do them at night time due to chilling
Never do them late in the day, they need time to dry off before going to sleep and night air hits them
Never allow any of the mixture to go down the birds throats or into their eyes
Never be rough when handling your birds when spraying them

It is also a good idea at the time of spraying that you check their:
1. Nails.. clip them if they are too long
2. Legs.. for any scaly leg mite.. if found apply olive oil with a small paint brush and continue to apply once a week for 6 weeks to all birds
3. Dirty vent.. if dirty, clean and if necessary cut away some of the vent feathers so the droppings can fall away cleanly
4. Comb & Wattle.. look for any mites under the wattles and eye lids... small clusters of black crustations.. these are stick fast fleas.. apply clean olive oil to these areas before you spray the bird with Permethrin, it will take 24 hours to kill the flea, birds need to be checked every 2 days if you do find them, as they will re infect the birds until they are all dead.