Hi Guys,
I Currently have 2 handraised baby Galahs available for sale.
They have been handraised from 3 weeks of age and are very tame and friendly, they love their head scratches and cuddles and love to run around the house playing with anything they can find.
They are the perfect age to bond to their new owner and will quickly pick up new tricks and words if you want to train them.
The new owner can come and veiw their new baby to interact and bond with them until they are ready to make the desicion to keep a bird, it will also allow for them to be certain that the bird will fit into their lifestyle.
Both the babies are females DNA certified and will come with certificates, they will come with a fortnights worth of food a toy, nails and wings clipped and our continued support and advice.
They are $300 each,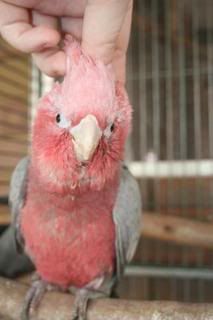 Also I have one baby Major Mitchells Cockatoo for sale,shes only 6 weeks old now so wont be ready for until weaned
Having been handraised from 2 weeks of age she will make someone a fantastic companion, she will learn to talk, learn tricks and will keep her new owner very entertained. At only six weeks she is allready wanting to be with us whenever she can and has allready developed a lovely personality.
You can come and visit the baby if you are interested in buying her to interact and bond with her until she is ready to be sold, it will also allow you to figure out wether she will fit into your living arrangements. I can also harness train her if you would like her to remain fully flighted.
Once she will come clipped (if you want it), nails clipped, a fortnights worth of food a toy and out continued support and advice. She is DNA certified Female and will come with a sexing certificate
$600 once weaned (scuse the food on her face she had just had a feed
)