Hi All,
As some of you are aware I run 2 Greatlander incubators, a T3 & a T4, both purchased in 2011. The T3 is used for chickens & the T4 for ducklings.
Both of my units are of the original "pre top hatch" design.
Over the time we have owned the units I have spent a fair bit of time speaking with Bob on ideas to improve the units. The moving of the water to the top of the unit being one of my ideas which along with Bob's idea of the sealed hatching compartment led to the development of the Top Hatch design.
One of the problems the older style units have is that in REALLY HOT weather temperature controll suffers. Nothing new for any incubator here.
Bob's suggestion of turning the ventilation fan around for the summer months, so that it sucks cooler air into the cabinet, instead of blowing air out from inside, really does go a long way to solving the problem of over heating the eggs.
It does however cause lower humidity levels, due to less humid ambient air being introduced into the cabinet all the time. Our T3 unit struggles to get much over 50% RH once the fan is turned (but the temp is well maintained).
While this will achieve reasonable results for chickens, ducks need far better than this during hatching.
Last week when discussing this with Bob the idea occured to me that if the ventilation fan were to be moved to the front of the unit, in the right hand corner, it would be drawing the air into the cabinet across the water tray This may fix the humidity issue.
Bob liked the idea and has modified a TH4T unit as described. That incubator is now at my place for a trial.
I picked the incubator up last night and plugged it in as soon as I got home. This weekend will be a great test for it as we have hot weather forecast - mid - high 30's in our area.
After running over night, with the RH set high the unit is showing a RH of 80+%, with no adverse affect to the temperature stability. The passive bottom water tray is not in use at this stage.
I cant get that out of our 4T at any time, so already an improvement in humidity control.
I plan to set both duck & chicken eggs in it tomorrow and will keep this thread updated as the test progresses.
Well done again Bob in allowing us to trial & evaluate a modified unit.
Below are the photos of the units modifications etc.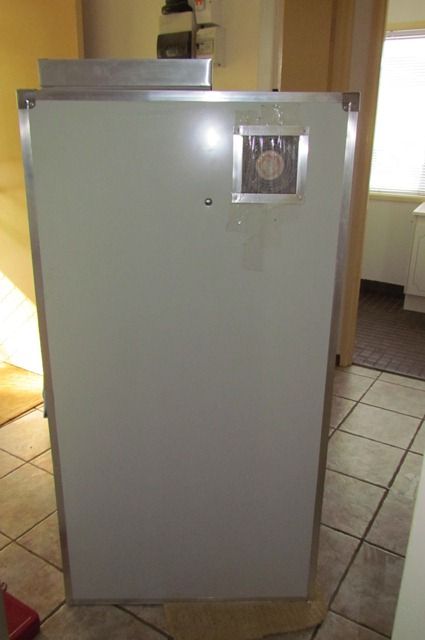 Rear of unit showing standard ventilaiton fan placement.
Modified front view.
New fan in front r/h corner.
Humidity achieved overnight (showing as 81).