I often get asked to recommend a thermometer for incubator use.
Buying a digital thermometer and expecting it to be correct is a risky business. It is a bit pot luck and whether you pay $2 or $50 there is no guarantee it won't read 0.5 degs too high or too low.
You can pay $2
http://cgi.ebay.com.au/New-Digital-LCD- ... 4aa6e6e951
or $17
http://cgi.ebay.com.au/Home-Brewing-Dig ... 230d1ddad2
for the same thermometer.
The only types of thermometer you can be reasonably certain will be accurate are the little digital medical types.
You should have one of these to use as reference to check your incubator thermometer against. Just fill a sink with water at about 37.7 degsC put both in for 5 mins and compare readings. I say use a sink because with a cup or bowl the water cools too quickly. I actually sit both thermometers in for about 5 mins just to make sure they have time to reach the same temperature as the water. Take several readings and you should be right.
It pays to regularly check your thermometer because batteries do go flat eventually.
Don't change your incubator setting unless you check your thermometer first.
Obviously if you want to use one of these types
that doesn't have have an external sensor on a lead or probe, you can't check this way. Don't worry, the chances of these being accurate enough for incubator work are very slim. Temperature can vary by about a couple of degrees and humidity about 20%.

These are slightly different and have In - Out temperature readout. Designed to sit inside your house and read the Temperature and Humidity inside your house using sensors inside the case exactly like the previous. These ones also have an external sensor you poke outside your window to read outside temperature. If you push the right buttons you can use this outside temperature sensor setting and check it's accuracy using the sink method.
I have had one of these types (not this model/brand) and it was very accurate (pot luck) for a few years but slowly drifted out by 0.2 degs. I picked up on this drifting because it does pay to check regularly because batteries don't last forever.
Checking your thermometer using the above method is fairly easy and just takes 10 mins.
Lots of people on this forum do it so if you are unsure then just ask.
We would all love to be able buy a thermometer off the shelf and be able to trust it completely to be spot on accurate.
You will come across people who who swear by what the thermometer they use, but you should always check the thermometer you buy. They are your chickens so the responsibilty is yours. It isn't hard to do. If it seems to much of a hassle to check your thermometer, I don't have a lot of sympathy.
For those with a bit of electronics knowledge actually correcting your thermometer if it has a resistive type sensor is very easy.
DO NOT ATTEMPT THIS UNLESS YOU COMPLETELY UNDERSTAND WHAT I AM DOING HERE.
If you know your thermometer reads too high or too low then one of the two methods below will likely fix it.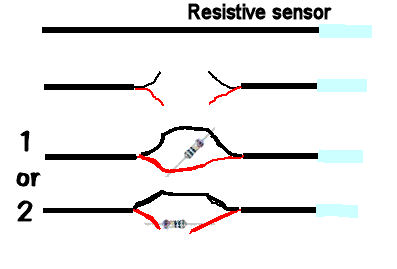 Now I assume the reason the thermometer is giving the incorrect reading is because the resistive sensor is either a tad too high or a tad too low. You should be able to see that in the diagram method 1 is a fix if the sensor resistance is too high and method 2 a fix if the sensor resistance too low.
In other words we are going to correct the thermometer by placing a fairly large resistor in parallel or a fairly small resistor in series with the sensor.
First thing we need to do is work out which method is going to work for us and find the value of the resistor that gets us spot on.
This is how I do it.
First cut the sensor lead, closer to the unit than the sensor, especially if it is going to be used in water.
Inside will be two wires or similar. Strip their ends back. Be generous so it is easy to twist and connect to each other and/or the resistor.
To Determine the method we need to use:
Start by trying method 1. Place a large resistor of about 100K in parallel as shown.
Did the reading move the in direction you wanted it too?
If your thermometer was too high before does it now read a lower temp. Similarly if it read too low before does it now read higher.
Don't worry if it moved to little or way too far, did it shift the reading the way you wanted it too? If the answer is yes then this is the method that will work for you. You just need to find the correct resistor value that will get you spot on.
If it didn't move in the right direction you need to try method 2. Start with a resistor of about 100R and see how you go.
A couple of potentiometers would be handy as is a wide range range of resistor values.