This is the last step in making an incubator completely hands off. An automatic water filler.
I settled on a small 12V DC pump. Looks very similar to a windscreen one on your car.
This picture shows the pump connected to the main water reservoir, a large tupper ware container. Could easily be a 20 litre plastic drum etc.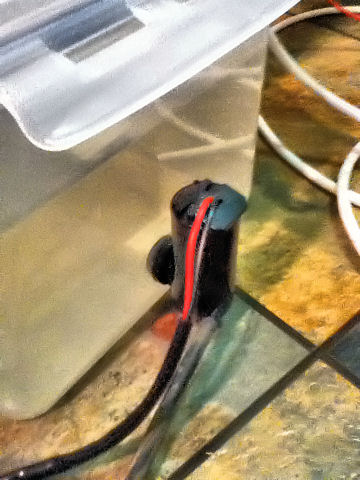 All I had to do was drill a hole near the bottom of the "tank" using a 22mm spade bit and shove the pump into it. No silicon or anything was needed, which surprised me a bit. The inlet side of the pump looks like a 16 - 19mm piece of poly would fit over the top of it ... but it came with a soft rubber sleeve over that which gives a good seal when shoved into a 22mm hole in a tupperware container.
This is similar to the switch I used. The water container inside the incubator is a smaller tupper ware container complete with lid. It's an auto humidity set up.
Here you can see the switch in the lid of the container, very simple.
It has been working well for me. Spent the last week away in Sydney on hols and all was well when we got back.
This is the pump/s I bought. Cost is $8.99. Don't know why it shows up as $108.99.
http://cgi.ebay.com.au/Mini-12V-Water-P ... 2eb3981f3e
For the switches just search ebay using "water switch" and sort using "price + postage, lowest first".
Very very easy to set up. Just bear in mind the "tank" has to be below the container in the incubator or else water will flow straight thru the pump. Pump needs to be below the water level of the tank because the pump can't lift water into itself.