My first go with posted eggs has ended successfully.
I had a dozen mixed standard Wyandotte eggs posted from Melbourne to Sthn. NSW. They were brilliantly packed, all survived the journey and i let them settle for a little over 24 hours as suggested by the seller.
My girls are first time broodies, so set 8 of the posted eggs under one girl and 4 plus 4 of my own GLW under the second. Girl 1 sat tight. Girl 2 got unsettled after a heavy thunderstorm and abandoned her eggs (had i known then that it's worth keeping going with cold eggs, i would have chucked the four bought ones in under girl 1)
Girl 1 kicked one egg out at about day 14. Today i have at least 4 peepers in the broody box with Mum, hope for 3 more tomorrow.
(edited 10/12/11 to add that we're up to 6 out of the 7 eggs she was sitting on have now hatched. She's still sitting tight so fingers crossed for the magic 7/7 eggs hatching)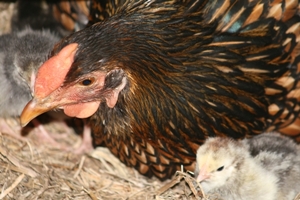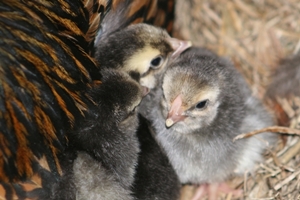 All in all, even if i only get these four i am really happy with the overall experience so far. I entered into it with full knowledge that it's a bit of a gamble, and in my eyes this is a positive result. I'd be happy to have a go with posted eggs again.
_________________
Dungarron Highland ponies - Gold and black ponies
www.dungarron.com
now joined by a small flock of Golden Laced Wyandottes.