Hi Terry,
The yellow egg trays are commercial pheasant egg trays that I bought from Incubatorsnmore in Adelaide for about $4.50 each, they also have quail and normal egg size, they have a web site if any one wants the link let me know.
I got them for silkie eggs and hoped that our bantam eggs would fit as well.
The bantam eggs didnt so I made the other tray from pine that i scrounged from an old desk drawer and 6mm dowel, I drilled 25mm holes for the eggs to sit in and rounded off the edges with a emery cloth flapper wheel and spaced the dowels 10 mm wider than the diameter of the bantam eggs.
They are sealed with water based gloss varnish so they dont suck all the humidity out and go mouldy. I got the idea from another guys home made bator.
Hers a pic with the eggs in it, the little brown ones are gold laced wyandotte bantam, the single white is a white leghorn bantam and the "huge" blue ones are the aracuna cross but are only 60g on average compared to the wyandottes that are 32g on average.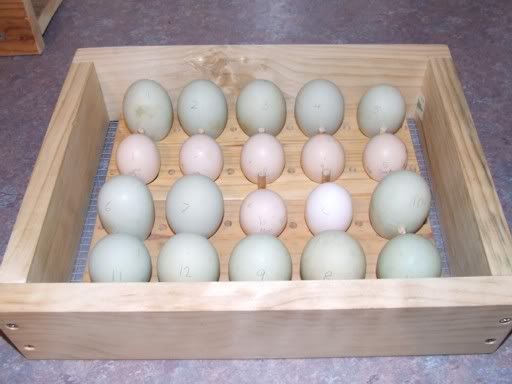 Regards
Trev