Well the chicks have hatched and the answer is clear (at least if I've underestood the genetics). All those who said "white" not "blue" must be right. To recap, I wasn't sure of the genetic background of what looked like a buff laced rooster (white lacing on buff/gold feather). I mated him with my ordinary silver laced hen. If he was a double-dose of Blue causing the apparent white lacing, then all of the chicks should hvae had blue lacing, right?
Well, anyway, none have blue lacing.
I set two lots of a dozen eggs and got a total of 18 chicks -
6 were ordinary gold-laced (black lacing on gold feather) pullets, like this: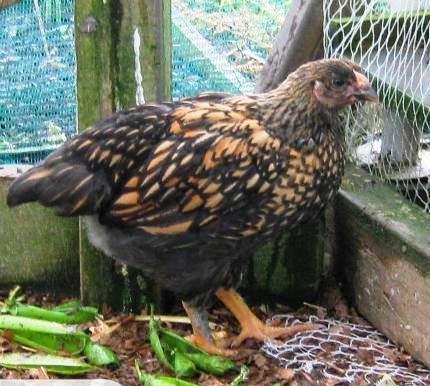 5 were ordinary silver-laced (black lacing on white feather) males. Sorry, no photos - I knew they had to be males and they didn't stay around long.
6 are apparent buff laced females.
Here's one who looked like a female from early on:
and here's another, who must have what I now understand to be a slow feathering gene, because she feathered up slowly like the boys, in spite of having the gold feather colour and no comb or wattle to speak of:
Here's a group of three of the youngest chicks, one of which clearly shows some leakiness of the white lacing - one feather is laced in black while the others are laced with white:
And finally there was one cockerel that was apparently pure white: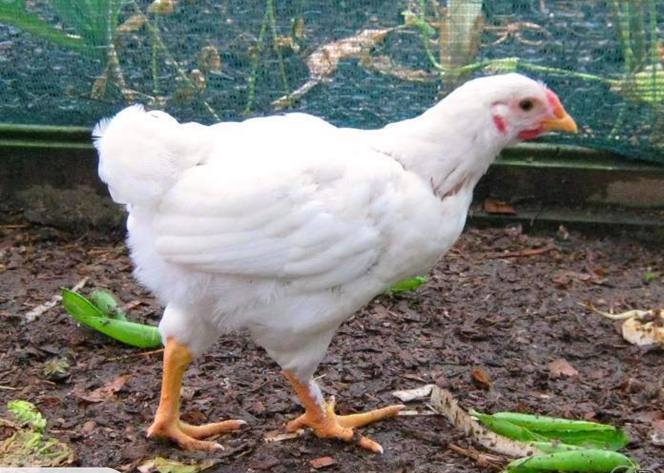 I'm guessing he's really silver with white lacing???
(This is such fun! I'm not a show-er or breeder and only kept my rooster long enough to get two hatches before succumbing to family pressure, but gee it was worth it!)