To give some history of Australian crossbreeding in the development of various new breed varieties.
There were at least two different lines of
Bearded
Silkies developed in Australia, one from Gerry Coady using Faverolles. Another unrelated line (different breeder) was developed from Araucanas (in the 1970's/1980's).
The following segregate is descended from the Araucana X Silkie line (circa late 1970's to early 1980's):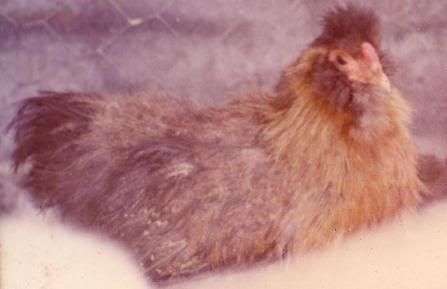 Also, Gerry Coady developed lavender Araucana bantams by crossing Araucana to lavender Belgian d'Anvers.
There have been Belgian de Watermael lines developed from crossing d'Anvers to Polish, & I can imagine some using Araucana crosses too (de Watermael are crested, bearded). I know of one lavender d'Anver line that some hens were laying blue eggs, highlighting their Araucana ancestry. There would have been some silkie lines laying blue eggs too. Ruff developed her own lines of lavender Pekins, & lavender silkies, & other breeders were using lavender Pekins to develop lavender Silkies, so don't be surprised if silkie-feathered Pekins segregate too. Note, there was also another line of Lavender Silkies in Victoria -don't know their history of development (whether they used lavender Araucanas).
All the breeds today with the lavender gene (in Australia) are probably descendants of lavender Belgians. Whether a lavender variety breeder started with lavender Araucanas, Pekins, Coronation Sussex, etc - they probably all trace back to lavender Belgians anyway.
Note too - the Fm dark skin/flesh mutation was intentionally introduced through crossing Silkies to OEG & Modern Game Birchen /Brown Red exhibition varieties, for gypsy-face colouring. And I think someone else introduced Fm into Australian Sebrights (don't know if from OEG /MG with Fm or directly from Silkies).
In summary, to be perfectly honest, to treat a silkie-feathered Araucana segregate as "shock-horror a sign of impure breeding" is about as logical as treating a Lavender Araucana segregate as "shock-horror a sign of impure breeding"
. If an Australian Araucana is lavender, it is a descendant of crossbreeding.