Hi everyone! I got 4 female Japanese quails 3 days ago and this is my first time keeping quails. I wanted to make sure I'm going in the right direction with these birds so I'm going to dump a lot of detail in this post and it might end up quite long! Your advice is much appreciated. Thanks!
At this stage I'm just wanting to be able to keep them happy, healthy, and producing eggs. I'm in Canberra, Australia, and right now it's winter. I have been supplementing them with a little bit of light so they're getting about 14 hours a day. I'm not sure what kind of bulb it is, but it produces a dull, yellowish light. You'll see in these photos of my set up (sorry they're not great quality):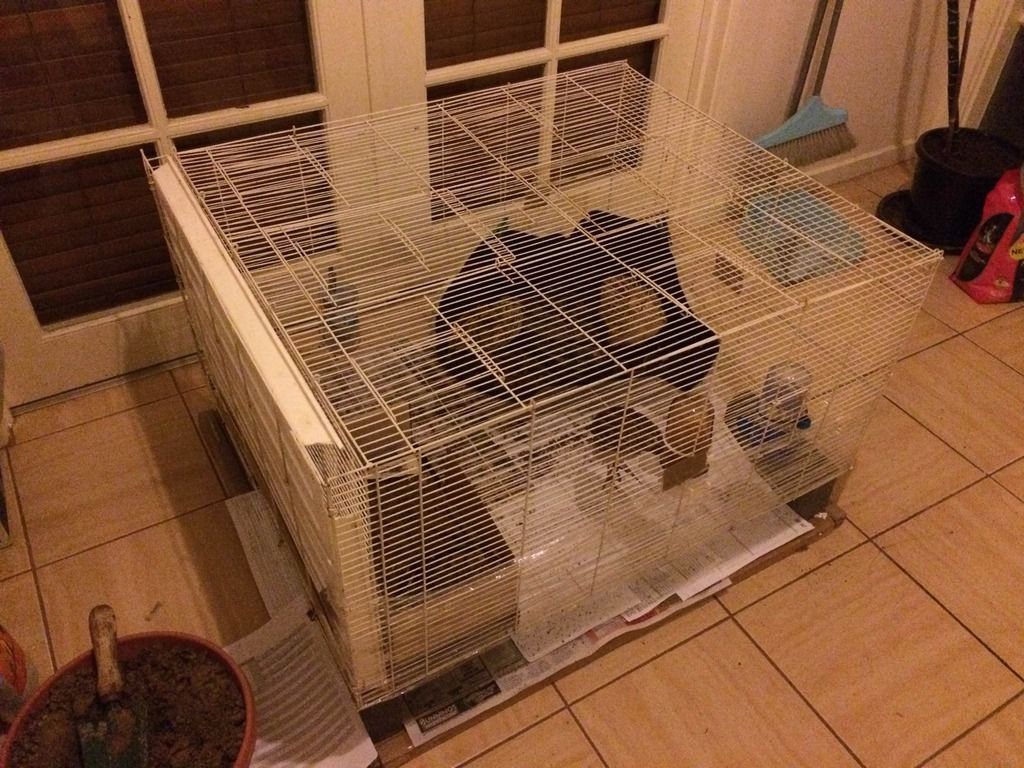 My cage indoors.
Quails and fountain feeders.
Grit/calcium supplement and velvet mattress, corner of dust bath.
Dust bath!
Some quail eggs collected over the last 3 days.
As you can see I have a dust bath (it's just sand/dirt from an old sandbox in my backyard), fountain feeders for water and feed that I got from the breeder, a home-made plastic bottle feeder with grit, and a blue velvet thing that was my dog's old mattress for them to stand on. They like to lay their eggs on this blue velvet thing. The cage is an old cockatiel's cage that I turned on its back so the sliding doors are on top and the quails have more room to walk around in. It's elevated slightly off the floor with some bricks in each corner so the poo drops to the newspaper below.
I bought some game bird feed today (Laucke Gamebird Finisher MP with 22% protein) that I haven't yet transitioned the birds to. If memory serves correct, the breeder said something about needing to give them adult food because he might still have been giving them growing food. The birds are apparently March/April babies so they should be old enough to lay now. I am quite certain they are all girls from the dots on their chests.
Anyhoo, I've got some concerns/questions so if you could help me out that'd be great!
Since I got them, I've only gotten 5 eggs (about 1 or 2 a day). They're laid at random times. Are they not all laying because of food? Are they not settled in yet to a new home? Is it the light (I heard 16 hours a day of light is good)? What about calcium? I don't even know who is laying and who isn't! Should I separate them to see?
Speaking of calcium, I have been giving them boiled crushed eggshells. I bought some grit for finches today that I've put in their cage. It contains oyster shell, baked eggshells, limestone, and charcoal among other things. Is this okay for them as a calcium supplement?
Some of the eggs are chalky and lumpy, while others are smooth and glossy. Why is this?
Do I need a run for them? I am planning on keeping them in their cage the whole time, but when spring/summer comes I want to move their cage during the day onto my lawn so they can peck at the grass, dirt and bugs. Is this okay?
I read that quails like shelter and places to hide to feel more comfortable. I don't have any decor in my cage and I'm at a loss of what to put in there. Ideas?
Just wanting to confirm that without a boy they can still lay eggs right? The breeder wanted to sell me a boy and told me they won't lay without a boy but I read that's not true.
How do I keep the smell down? I'm not going to consider deep litter because the cage they have is going to be their home (I'm too stingy to get them a new enclosure). What substrate is good to absorb the poo? When I move them outside when the weather gets warmer, will it attract flies/pests? How can I prevent this?
Thanks so much for your patience of going through this and for answering.
I may update with newer photos/questions later.