Hi Mouse...
Roll away nest boxes look like this ..
Just click the pictures to see them larger ok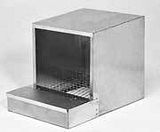 Nelly has already given you a few ideas on why birds eat eggs... I will just put what I have on my computer also
Have a read.. if you have any questions please ask
Egg Eating Birds
Egg eating in a laying flock can cost a producer considerable money. Like many bad habits, it is much easier to prevent egg eating than to cure the habit once it has developed. It is usually initiated by accidental egg breakage, but birds will then learn to break eggs themselves.
Causes
Egg eating occurs primarily in flocks that are kept on the floor (i.e., not in cages). A number of factors can contribute to egg eating.
Egg eating can result when
The hens are overcrowded,
When light intensity is too bright,
When there are inadequate nests,
When the nests are not constructed properly,
Or when there is insufficient nest litter.
Some small flock owners throw cracked or broken eggs on the floor for the chickens to eat. This practice will encourage egg eating.
Failure to house pullets before heavy egg production begins
Failure to provide nests on range, or
Failure to train pullets to lay in nests may also cause egg eating to develop.
When pullets begin laying, or when they are moved to the laying house, they should be trained to use the nests.
Providing roosts during the growing period contributes to greater ease in training pullets to use nests.
A little time spent each day in putting floor layers in nests will assist in reducing egg breakage and reduce chances of an egg-eating outbreak.
The tendency to eat eggs can be aggravated by either a deficiency of calcium or vitamin D in the ration.
Such deficiencies also contribute indirectly to egg eating by causing poor shell quality and broken eggs.
If the flock is receiving a commercial layer ration, such deficiencies are rare.
When a small flock owner mixes a commercial feed with scratch (i.e., cracked grains), they are diluting the previously complete diet.
Under such circumstances, deficiencies may occur.
Control Measures
If there is a problem with egg eating in a flock, the following control measures may help:
1. Gather eggs more frequently. Once a day is not enough -- three times or more is better.
2. Be sure plenty of nests are provided. Allow one regular type nest for each four layers or 1.3 square foot in a community type nest for each three to four layers.
3. Darken nests. Dark nests reduce egg breakage and egg eating as well as the numbers of dirty eggs produced.
4. Feeding of liquid milk for a few days often reduces egg eating.
5. Break an egg in a bowl and mix 1-2 teaspoons of ground pepper into it. Pour the mixture on the floor so the birds will eat it. The bad taste may reduce egg eating.
6. Replace Their eggs with artificial wooden or plastic eggs, a few unsuccessful pecks at them and they will often times lose interest.
7. Hang feed sacks or other heavy material in the nest fronts, leaving only 2-3" of space underneath, the hens will crawl under to lay but usually they don't crawl under to eat.
8. Put peepers on em, the red plastic ones will usually work well enough to stop them from eating eggs.
9. As a last resort, beak trim the birds. Often it is only a few hens, which are doing most of the egg eating.
It is up to you to retrain them not to eat eggs, they will not do it on their own, once one starts they teach the others how to do it… and they are very quick learners
However, it is difficult to break birds of the habit and it is best to cull those that begin eating eggs
How to find the culprit
Observe your hens and try to identify such hens.
The presence of egg yolk on the beak often helps in identifying them.
These hens can be removed from the flock or at least beak trimmed by cutting off ¼ inch to ½ inch of the upper beak.
Beak trimming the entire flock while in heavy egg production may result in reduced production unless care is taken to see that feed consumption is kept at a normal level.