I know, I spoil 'em don't I?
Today's meal isn't so colourful but nonetheless full of goodies.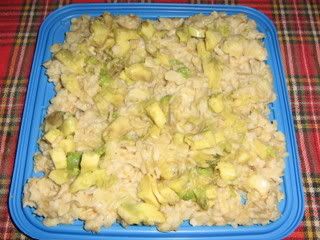 Ingredients
:
Three handfuls of rolled oats and 1/2 cup milk (nuked for 3 mins) to which I then add 1 dried apple-ring, diced. Set bowl aside. Next, I nuke 1 handful of brown rice and water until tender. Mix two together and serve on ice-cream container lid. To garnish, (
REMOVE AVOCADO FROM THIS RECIPE -

POISONOUS
) try a few sprigs of Itallian parsley instead.
Everyone, feel free to share your meal creations too.
Also, if I'm serving up anything potentially harmful, let me know as well.
_________________
Christine
Orpingtons & Araucanas...
bantam
Gold Lace Wyandottes...
standard