The Sultan
Breed
: Sultan
Origin
: S/E Europe
Colours
: White.
Status
: Rare
Eggs
:White,laying around 70eggs per year....not know for their mothering ability & rarely going broody!
Comment
: Sultans are a very unique breed of poultry.Quite rare in Australia coming in both standard and bantam,They are fully feathered,head to toe! Wattles and earlobes are usually hidden by facial feathering.They have feathered legs,vulture hocks a full crest,muffs, beard a V comb & 5 toes on each foot.
Cost:
Sultan prices vary, usually breeders starting price is around $100> due to the time & effort that has been put into recreating them.
History
: Sultans were introduced to England by a Miss Elizabeth Watts of Hempstead in 1854,bought in from turkey, the breed almost becoming extinct between the two world wars,it was recreated by crossing several different breeds unfortunately this means that none of the birds of today have descended from the original birds.
Suitability
: Sultans are an extremely rare breed of chicken. They are very calm, tame, non-aggressive birds and make excellent pets, but are primarily bred for exhibition. The main reason most people have this breed is for their eye catching appearance. Sultans are easily handled and suitable for small yards and gardens they are not the best foragers. Sultan chickens are not as hardy as most other breeds of chickens. Their crest feathers have a tendency to freeze when the temperatures drop below zero and they find it very hard to cope with poor weather. Sultans can fly higher than 6 feet but a simple wing clip can prevent this.
A Sultan That Has Been Recreated In Australia: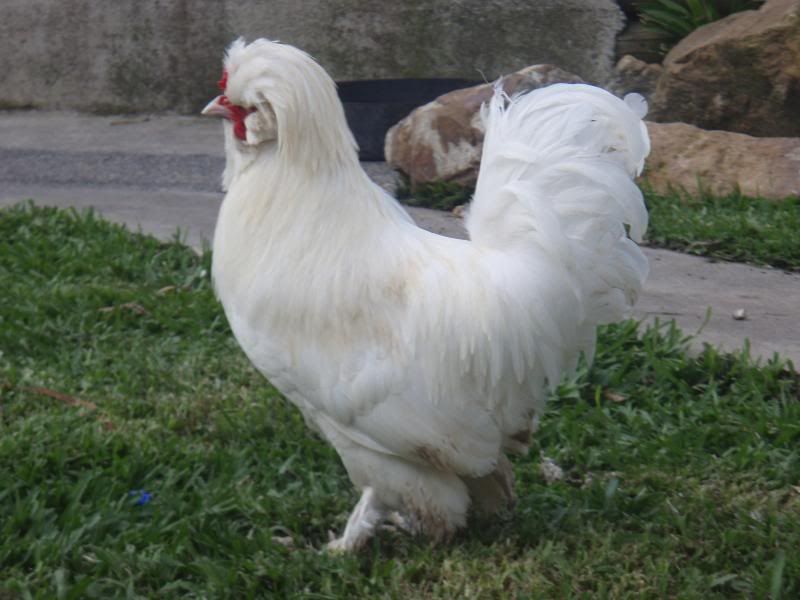 Links:
Crested Breeds Club of Australia