The Barnevelder Fowl
Renowned for their deep brown eggs this breed originated in Holland. It now has many followers because not only is it a good layer, but it also possesses many attractive features.
Origins
The breed has its origins in the district of Barneveld in Holland where it was developed as a dual purpose bird that laid very dark brown eggs.
History
The demand created a breed. The Barnevelder was born from the urge to have birds which laid very dark, brown eggs. It started life as a farmyard fowl in the area of Barneveld about 160 years ago. These farmyard fowls were crossed with the new breed from the east, Cochins.
This first cross, letâs called it Barnevelder I (1885) was then crossed with the Croad Langshans. It is this cross that is believed to have produced the dark coloured egg. The eggs were also larger than those produced by the Langshans.
This second cross, Barnevelder II, was then crossed with the Buff Orpington to produce Barnevelder III (1906). It should be appreciated that the crosses were all intended to improve the size and colour of the egg and the colour patterns or other characteristics were irrelevant at this stage.
From 1910 onwards some attempt was made to standardize the shape, size and colour and in 1921 a Society of Barnevelder Breeders was formed in Holland.
** there has been some rumours that the Indian Game was crossed in there somewhere to get the double lacing, but the Dutch hotly dispute that train of thought. The Indian Game cross may have been used in the UK at a later date, but findings seem to report it was at the expense of type and egg colour.
Colours
Colours listed in the Australian Standard are Black, Double Laced, Partridge and Silver.
The double lacing shows on the female plumage and each feather on the breast, saddle, back and thighs should have a red-brown ground, clear of peppering and have a defined, glossy black outer lacing and inner defined lacing. Hackle should be black with beetle green sheen.
Male double laced have neck and saddle hackle feathers to match for colour and definition and each feather to be black with a slight red-brown edging and red-brown centre quill finishing black to the tip. Breast should show some red-brown with black outer edging or lacing. Back and cape have red-brown feathers with very wide black lacing. Wing bow and bar, red-brown with broad lacing and the primaries have inner edge black with outer red-brown. Secondaries show inner edge black, outer edge red-brown finely laced with black, showing when closed as a red-brown wing bay. Tail all main feathers to be black. *Note that all black on birds should show beetle-green sheen.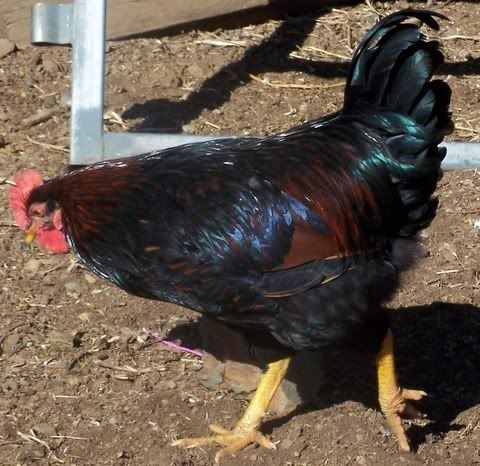 Partridge females are similar to double laced with the exception that instead of the inner lace, the feather should be evenly stippled with small black peppering clear of any inner lacing or penciling, each feather will still show the glossy black outer lacing. Partridge males show no lacing on the chest. Back, cape and wing bow to be red-brown with wide black tip.
Listed is not the complete standard, but a rough description to give you and idea about how the birds should appear.
There are also rumours of other colours being worked on in Australia.
Eggs
Eggs should be a DARK brown colour. This is originally what the breed was breed for, but has been lost to a large extent. They were also noted for being a very good laying breed. In 1932 a hen owned by E W Spencer laid 266 eggs in 48 weeks of which 249 were super grade.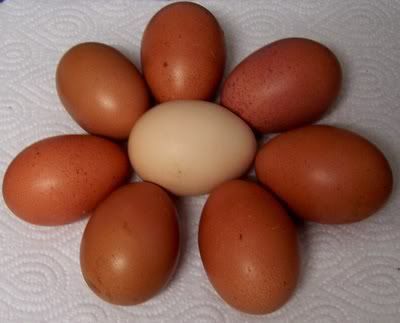 Not only egg laying was at the top of the league, according to Captain A Kaufman, he was producing 4.5pound birds at 14 weeks of age, which made it a first class dual purpose breed. One problem that the breed has faced has been the choice to breed smaller birds because of the quality of their lacing, loosing some of the size the bird should have.
Weights listed in the Standard
Fowls
Cock 3.2-3.6kg
cockerel 2.7-3.2kg
Hen 2.7-3.2kg
Pullet 2.25-2.7kg
Bantams
Male 850-1075g
Female 680-910g
General Description as taken from "The Barnevelder Fowl" by Joseph Batty
The Barnevelder is said to be upright in carriage, but this should not be taken too literally because the carriage is semi-upright when compared with breeds such as Malays and Shamos. This is not to state that the breed is not attractive, because the positive lines and medium tight plumage show the shape of the body to perfection. The standard suggests the body appears compressed, emphasizing the moulding of the feathers around the body.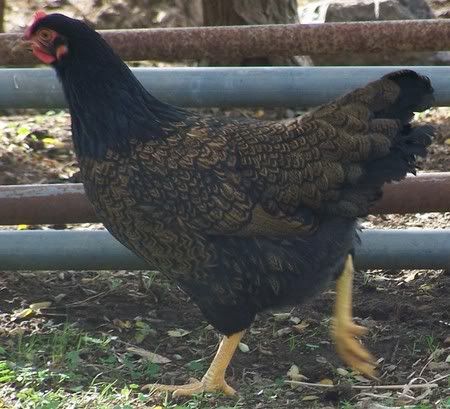 The body should be deep and of reasonable length and as a result, the back should be fairly short. In some respects there are similarities to the RIR and New Hampshire, but the tail is higher than the RIR and the back with a positive U-curve, appears different.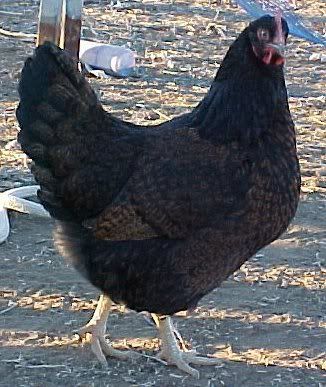 We cannot ignore the shape of the body because the Barnevelder is a dual purpose breed and therefore most comply with the laying and table requirements.
Alertness is a characteristic of a productive bird and naturally this aspect should be present. There is not place for slow moving birds because these are not generally productive, actively scratching for food and being on the move would be the normal expectation.
The Barnevelder cannot be regarded as hard feathered, which is a term to describe game birds, however, it cannot be truly treated as a soft feathered which implies a profuse covering of feathers with fluff underneath. Medium feathering is more appropriate.
Legs and thighs should be of nedium lenght. There should be a reasonable bend at the hocks, which is quite visible on males, but only just with the female. They should be a good, clear yellow in colour.
Suitability
The Barnevelder is a great backyard fowl. They are good layers of dark, brown eggs. Medium sized, good foraging birds, which should dress well for the table. Unfortunately good quality birds are hard to find and often fall into utility (poorly marked, but dark eggs) or show quality (good lacing, but may have poor egg colour and laying). They are a lovely even tempered bird that can be a little unruly when young, but they grow out of it.
Cost
I have seen poor quality pullets go for $25 at auction with better birds reaching well over $100. With this breed I think you do often get what you pay for.
A lot of my information has come from "The Barnevelder Fowl" by Joseph Batty and the Australian Poultry Standards First Edition.
*added more pictures